Demand for the program has grown over the past 10 years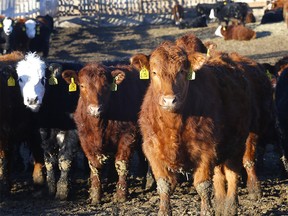 Article content
The Alberta government is increasing its support for the Feeder Associations loan guarantee from $100 million to $150 million, Agriculture and Irrigation Minister Nate Horner announced Wednesday afternoon.
Article content
The program is aimed at cattle and sheep producers who buy and feed livestock on the open market. Demand for the program has grown over the past 10 years and is fully booked for 2022.
Article content
"The main reason for the growth and need for this increase in the guarantee is the price of cattle," Horner said. "Cattle have increased quite a bit in the last decade. If you take a young farmer with a static land base who wants to buy 200 head of cattle or cattle, they still want to run the same amount of cattle but it costs twice as much, so that's why the guarantees have to grow."
Article content
The Feeders Association Loan Guarantee Program has been in place since the Great Depression in 1936 and provides producers with access to low-interest, leveraged financing backed by a government guarantee.
Article content
The program finances between 17 and 24 percent of the calf crop annually.
To date, the program has guaranteed $11 billion in private financing for Alberta livestock producers.
There are currently 45 local feeder associations and count 2,000 members.
Beef producers at a tipping point, discuss challenges at summit

'We're hopeful': Alberta farming conditions significantly better after dry 2021 season

The future of agriculture in Alberta faces many challenges
"This provides young farmers and new entrants to our industry with access to capital that they would have no other way to get, helping the long-term sustainability of our industry," says Reg Schmidt, director of Zone 3 for the Feeder Associations of Alberta. "This announcement provides the additional capital needed to offset the increased cost of capital and room for this program to grow additionally."
Article content
Cattle producers have struggled with rising input costs, particularly as a result of the drought last year when there was a shortage of feed in Western Canada. Many resorted to importing corn feed by trainload from the US beginning in the fall and continuing through the spring.
While supermarket prices for beef have risen due to global demand, producers have not seen this increase reflected in what they can get for their cattle, in part due to a glut of beef at processing plants. This was exacerbated by a culling of herds in light of the drought and costs of feed, fuel and other inputs.
Article content
Horner is still awaiting the results of a beef competitiveness study, launched in July, which will look at making the sector more viable for producers. The minister said he expected the report by mid-December.
jaldrich@postmedia.com
Twitter: @JoshAldrich03