In a speech to the Calgary Chamber, Smith promised upgrades to Deerfoot Trail and new funding models to help the city build major projects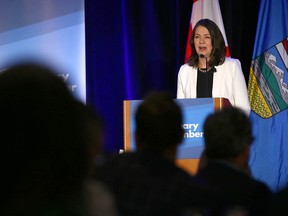 Article content
During a speech to the Calgary Chamber of Commerce on Friday, Premier Danielle Smith promised upgrades to Deerfoot Trail and new funding models to help the city build major projects like the Green Line and event centre.
Article content
"It's a great city and it's one of the most powerful drivers of the Alberta economy," she said in her speech. "Calgary will get the care, attention and respect it deserves from our government so it can continue to grow safely and efficiently."
Article content
With more than 500 members of the business community packed into the Westin Hotel's conference room, the prime minister unveiled her plan to boost the oil and gas sector and addressed how she will use the incoming sovereignty law when dealing with the federal government. She noted that she would impose it on fertilizer caps and arbitrary restrictions on oil and gas, while protecting the province's constitutional jurisdiction over resource development.
Chamber president and CEO Deborah Yedlin has been critical of the proposed sovereignty bill since before Smith took office. She said it could actually hold back development.
Article content
"We need certainty for businesses," she said. "We don't need anything that disrupts the investment climate, and that includes projects or events being delayed because there are court proceedings."
The premier said the most important issue she heard while president of the Alberta Enterprise Group, a Calgary-based association of 100 companies, was the time it took to get approval for projects. She said her government would prioritize reducing red tape.
Smith's vision for Calgary includes ensuring that the Green Line CTrain project is completed, despite past comments questioning the project. She said she will also engage with the mayor on the need to extend the CTrain to the Calgary International Airport and will promote the construction of a Calgary-to-Banff rail link.
Article content
Also Friday, the province announced planned upgrades to Deerfoot Trail to address bottlenecks between Glenmore Trail and Anderson Road/Bow Bottom Trail. During her speech, Smith said the project would include "multiple interchanges with extra lanes and seven new bridges."
A news release from the province said the work is expected to reduce driver commute times by 15 percent during peak morning travel hours, and 22 percent during peak evening hours.
Smith also directed Municipal Affairs Minister Rebecca Schulz to explore new ways to fund municipal projects, such as Calgary's downtown revitalization. This could include a new tax model that would leave education taxes with the municipalities or other models to unlock dollars for critical projects.
Article content
She said the county receives $2.5 billion from the city in education property taxes and only $700 million flows back.
"I can't go and complain to Ottawa that they take money from Alberta and don't get it back if we keep doing the same thing to our municipalities," said the premier.
These are all elements Yedlin has pushed for, especially for a greater commitment from the province on downtown revitalization beyond the $5 million budgeted in the spring by former premier Jason Kenney.
"There needs to be a mechanism for cities to be able to raise revenue to support building infrastructure and not be completely dependent on property taxes," Yedlin said. "That means you can't really respond to opportunities in your market in a timely manner because you have to go to some level of government to ask for more funding and find out what that looks like."
Article content
The event center is another important part of the city's plans to attract events, concerts and people downtown. The province has previously been resistant to committing dollars to the project, but Smith spoke about the importance of a new home for the Calgary Flames. She said they will look at the model used by Edmonton and the Oilers to build Rogers Place, which would include surrounding commercial development to raise taxes.
Braid: Smith begins big move to win Calgary support, starting with new arena

Province to upgrade the bottleneck section of Deerfoot Trail in Southeast
Ward 7 gr. Terry Wong said the model has been used for other projects in the city, including in the East Village, and could be used here as well.
Article content
"The development that we do there, the tax take that we get from those improvements comes back into Calgary's investments," Wong said. "We're already doing some of that as it relates to Rogers Place in Edmonton and there may be some nuances that we can learn from."
NDP finance critic Sarah Phillips mocked the premier in a news conference after the Chamber lunch for having a spin on support for projects, using the media as a way to float "crazy trial balloons."
She said the funding models would not give municipalities the stable, predictable funding commitments they need to properly address the infrastructure issues they face.
"These are massive projects that require a partner in the provincial government that is serious, that is competent, and that it will act in a way that is predictable and will act in a way that understands our role as provincial government should be the key. partners in economic prosperity and growth going forward," she said.
jaldrich@postmedia.com
Twitter: @JoshAldrich03