Organizers prepare for more than 100 hockey and 38 ringette teams to compete in the December 27-29 tournament
Article content
The Tim Hortons Western Canada Pond Hockey Championship returns to Chestermere Lake for the sixth consecutive year.
Article content
Taking place from December 27 to 29, organizers say they are already refurbishing the courts for the annual outdoor tournament in support of the Chestermere Regional Food Bank, Camp Chestermere and Synergy, a local youth mentoring charity.
Article content
"Fortunately the weather was in our favour; the ice looks great," said organizer Alex Halat, a welcome sight after last year's tournament was largely in below -30 C temperatures.
"I'm in my 40s and my fondest memories are growing up – before I played college hockey and all that – I still remember when I was a kid playing pond hockey."
Halat said he hopes to see 100 hockey teams and 38 ringette teams – both youth and adults – on the ice later this month, and the city of Chestermere of 23,000 people could welcome as many as 7,000 visitors daily during the three-day tournament.
Article content
"It is a very good reminder for the children and it makes people active. The best thing is, it doesn't matter what skill set you have because we have different divisions," he said.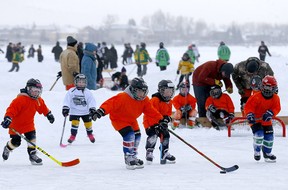 With 14 courts and 15 tents set up on the lake, Halat said nearly 200 volunteers will put in "thousands of man-hours" before and during the three-day tournament and organizers have worked closely with both the City of Chestermere and the provincial government.
"Even if you go on Christmas Day, you'll still see 20 people getting ready for the event. It's pretty unique because it means a lot to a lot of people in the community and we just want to keep growing year after year," he said.
Chestermere is busy with big hockey events this year. In April, Halat helped the Hockey Marathon for the Kids, a 261-hour hockey game that helped raise nearly $1 million for the Alberta Children's Hospital Foundation and saw the city reclaim its world record as the host of the world's longest hockey game.
Article content
Chestermere pond hockey tournament soldiers on despite extreme cold

Play on! Chestermere pond hockey tournament doubles in size, scores for charity
Registration for the pond hockey championship is open until December 17 at $450 per each team of six to eight people. For those without the funds to enter a team, Halat said options are available by contacting him through the event's Facebook page or website.
"If people have challenges with the registration fee, contact me directly and we can try to find a sponsor for them," he said. "We try not to turn anyone away."
Registration information is available on the tournament's website, wcpondhockey.com.
The city of Chestermere announced Tuesday that the lake and local ice rinks are now open for skating this winter season.
mrodriguez@postmedia.com
Twitter: @michaelrdrguez