The victim said he believed the assault was rooted in homophobia, adding that the attack would affect his ability to feel safe in public spaces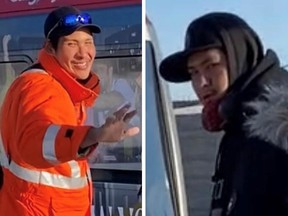 Article content
Police are asking for the public's help in identifying two men suspected of committing a hate-motivated assault at a Calgary CTrain station last week.
Article content
Two men were sitting in the Franklin LRT station at about 2:40 p.m. on Nov. 11 when two unknown men approached and sat down next to them, police said.
Article content
When the two men, feeling uncomfortable, left their seats and stood outside to wait for their train, the unknown men approached them again and escalated into a verbal altercation and a physical assault on one of the men, according to the police.
Investigators say the unknown men boarded the train and left the scene after the assault.
The hate crime and extremism unit of the Calgary Police Service took over the investigation after details were received from the victim.
In an Instagram post, a Calgary student who identified himself as the victim of the assault detailed the incident.
Article content
The victim said he and his friend were practicing vogue – a dance style associated with the LGBTQ community – on the station platform after moving outside, when the suspects followed them outside.
He said he was then blinded by a punch to his jaw.
"I walked away in shock, I was confused as to why someone would do this without a clear motive," the victim wrote. "My friend yelled at them as they tried to assault him too, and the guy who didn't hit me laughed like anything about it was funny."
He said he believed the assault was rooted in homophobia, adding that the attack would affect his ability to feel safe in public spaces.
"If we didn't talk the way we talked, if we were dressed differently, and if we didn't dance a femme style, we would most likely never have been approached," he wrote.
Article content
"This is a real event and an example of violence against strange people, and we were happy."
Police said they believe both suspects are in their early 20s.
They said one suspect was wearing a black coat with a gray fur-lined hood, a black hat, white sneakers and red headphones at the time of the assault, while the second man was wearing an orange construction jacket, blue pants, white sneakers wore wearing blue sunglasses, a blue baseball hat and a brown shoulder bag.
Those with details about the assault are asked to call the police non-emergency line at 403-266-1234.
Anonymous tips can also be sent to Crime Stoppers at 1-800-222-8477 or calgarycrimestoppers.org.
Police are investigating more hate files, but say no presence of organized groups

Study of hate crimes in Alberta could be 'life breath' for anti-racism work: researcher

Hate crimes up 37 per cent in 2020, other crime down: Statistics Canada