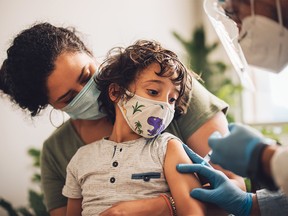 Article content
Children under five years old will be able to get Pfizer's pediatric COVID-19 vaccine through Alberta Health Services starting Monday.
Article content
The shot was approved by Health Canada in September for children aged six months to four years. The dose for children in this age group is 3 mcg, rather than the 10 mcg given to children aged five to 11 years.
Article content
"As with all vaccines for this age group, they will be administered by AHS," Alberta Health said in a statement.
The Moderna vaccine has been available for children aged six months to four years in Alberta since the beginning of August.
Since then, just over 1,000 children aged six to 11 months have received a first dose, which is four per cent of the population of that age. Almost 15,000 children aged one to four years old received their first shot, making up 6.9 per cent of that age group in Alberta.
The Pfizer and Moderna vaccines cannot be offered as a mixed series for children in this age group, according to the Alberta Health website.
Article content
The percentage of children vaccinated with at least one dose of COVID-19 vaccine jumps to 51.5 percent for those aged five to 11.
As of Thursday, none of the 1,319 doses given to children aged six months to 11 months had experienced adverse events after immunization (AEFI), while seven of 19,658 doses given to children aged one to four years had a had AEFI.
For children six months to four years old without qualifying immunodeficiency conditions, the Pfizer vaccine is a primary series of three doses with a minimum of eight weeks between doses. Those with immunosuppressive conditions are advised to get four doses, with at least 28 days between the first and second, and eight weeks between the others.
Alberta Health said parents and guardians can book an appointment for their children at bookvaccine.alberta.ca or by calling 811. Parents or guardians of children living in First Nations communities can call their health center to make an appointment.
Article content
'A very memorable day': Alberta begins COVID-19 vaccinations for children under five

Alberta taps into routine childhood vaccines after pandemic drops

New U of C study aims to help kids beat COVID-19 vaccine needle fear
With everyone older than six months eligible for COVID-19 vaccines, 82.3 percent of Alberta's population received at least one dose, 77.9 percent received two and 40.2 percent received three.
As of Wednesday, there are 1,090 COVID-19 cases in the hospital, including 36 requiring intensive care. A total of 5,093 Albertans have died from COVID-19.
Of those hospitalized, 335 are in the Calgary zone, including 12 of the patients in ICUs.
In the past week, Alberta has reported another 1,408 cases of COVID-19 from 9,289 completed laboratory tests.
sbabych@postmedia.com