The goal for E3 Lithium is to separate lithium from the aquifer of the Leduc reservoir for use in EV and battery technology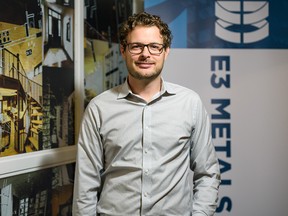 Article content
Calgary-based E3 Lithium has secured $27 million in federal funding to help the company continue to develop and advance to production.
Article content
The funding was announced Monday morning and is part of Innovation, Science and Economic Development's Strategic Innovation Fund that has spent $6.8 billion on 107 projects across Canada.
Article content
"It's absolutely huge on several levels," says Chris Doornbos, E3 Lithium CEO and founder. "When I see this level of investment in Alberta with our resources, I think it's a big vote of confidence from the federal government."
The goal for E3 is to separate lithium from the Leduc Reservoir aquifer for use in EV and battery technology.
E3 aims to use an ionization process, which will separate the lithium from the brine left over from oil extraction by drilling into the aquifer beneath the reserve. Once the lithium is extracted, the remaining water will be returned to the aquifer.
Article content
Doornbos said in June that the proprietary process would have only three percent of the carbon footprint of the other processes while producing a much higher grade of product. Their technology differs from other efforts as it does not require vaporization.
Once up and running, he said the Clearwater project will produce 20,000 tons of sustainable lithium per year for the next 20 to 30 years.
E3 drilled their first pilot well in June, east of Olds, has since drilled a second hole and purchased a third. These holes are part of the pre-feasibility study of the 12-18 month pilot project.
The early returns were encouraging for the founder.
Meet the company that wants to extract lithium from Alberta's old oil and gas resources

E3 Lithium breaks ground on first well, partners with Imperial Oil

As Canada's EV battery ecosystem takes shape, Champagne microchips 'fit' look
"This is the first set of data that we can actually use which means that we can discuss a reserve out there," said Doornbos. "It's fundamental for us because that's where we want to produce from, and it confirmed that the lithium grade is consistent."
Article content
He said the lithium grade was as expected, as were the production values.
The funding nearly doubles the $35 million previously raised, which includes $1.8 million from Invest Alberta and $6.35 million from their partnership with Imperial Oil as well as other rounds of public investment.
This federal funding helps cover the cost of the holes already drilled and will help develop a pilot plant in the next year or so, as well as possibly more wells.
Once the pre-feasibility study is completed and a report is written and everything moves forward, they will likely look at another round of funding and investment to build a production facility. It's probably three to four years away.
Article content
The project is still in the non-revenue stage, Doornbos said this announcement will help them get much closer to that stage.
In their last budget, the federal government prioritized funding such projects to ensure greater access to resources such as lithium, which are critical to the production of electric vehicles and batteries. It is a market dominated by China.
Francois-Philippe Champagne, Minister of Innovation, Science and Industry, said E3 Lithium's technology will play an important role in supplying large quantities of battery-grade lithium to the automotive industry.
"It's really building this battery ecosystem from coast to coast," he said in a video statement from South Korea. "We want everyone in Canada to benefit from this new industry."
In October, Ottawa announced $222 million for Rio Tinto Fer et Titane in Quebec to increase its production of critical minerals.
There have been several other investments in mineral mining and battery production facilities, but mostly in Eastern Canada.
jaldrich@postmedia.com
Twitter: @JoshAldrich03