The NDP leader spoke to a sold-out crowd of 350 business leaders at the Calgary Chamber of Commerce on Thursday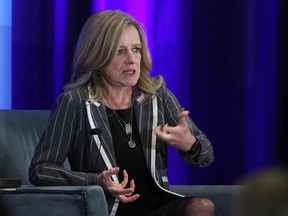 Article content
Alberta NDP Leader Rachel Notley brought a message of cooperation and stability to the business community Thursday when she addressed the Calgary Chamber of Commerce for what may be the last time before next spring's election.
Article content
In her sights, specifically, was Alberta sovereignty within a United Canada Act — Premier Danielle Smith's controversial strategy to stand up to the federal government.
Article content
"My hope is that we hear very little about the Sovereignty Act going forward, because the sooner we can stop talking about it, the sooner investors can take a deep breath and hopefully get back to work," the leader of the official opposition said. talk to the media afterwards.
She pointed to the instability the act could potentially cause for investors looking at Alberta as a place to do business.
The sold-out crowd of 350 business and community leaders at the Hyatt Regency marked a drastic change from a decade ago when the NDP couldn't get a platform at a chamber event to speak from in Calgary.
Article content
The NDP was a one-term government when it was elected in 2015 and was plagued by a failed oil sector and a number of political mistakes. Notley is now in a dead heat at the polls with Smith, five months out from the next general election and said she has learned lessons since her time in power.
NDP announces plan to drive jobs, investment to Alberta – without a sovereignty bill

Smith-led UCP in statistical tie with NDP as other parties fall away: new poll

Federal NDP Leader Jagmeet Singh says sovereignty is bad for Alberta's health care

'Overreach': NDP accuses Smith of harassing groups over vaccine mandates
In particular, the party has placed a higher priority and trust in engaging with the public while better understanding how to get things done as a government.
Article content
Much of her speech covered ground from Wednesday's launch of the NDP's Competitiveness, Jobs and Investment Strategy.
The opposition leader would not commit to cutting corporate income tax but said they would remain the "most competitive in the country". She also pointed to promises to reinstate tax incentives such as the Alberta Investor Tax Credit and the Interactive Digital Media Tax — the latter of which Smith also promised to do. She also said she would create a future tax credit aimed at attracting large capital projects to Alberta.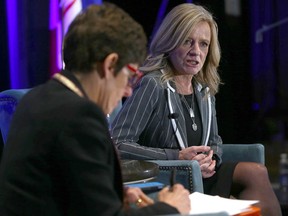 Notley said she would create a bigger seat at the table for indigenous communities, expand on the Alberta Indigenous Opportunities Corporation, which was installed by former premier Jason Kenney, and integrate these communities on smaller projects as well as the "mega projects."
Article content
She repeated an announcement from earlier this week by critics David Eggen and Joe Ceci, where the NDP issued requests for proposals to nine post-secondary institutions in southern Alberta for the development of a downtown Calgary campus.
This largely plays off of the UCP government's CORE report released earlier this year, but for which little movement or dollars have been committed. The goal would be to bring life to the downtown with more students living and going to school in the core, while providing better opportunities to partner with the private sector.
Notley said it would be their intention to have an actionable plan moving forward within 12 months from today if elected on May 28.
Article content
"The idea of ​​doing the RFP? Yes, it is, it's a little unusual," she said. "But honestly, one of the things we learned when we were last in government is that a lot of those key decision makers, they're starting to read the tea leaves a little bit and they're starting to do the work to get ready for that."
Notley's luncheon comes a month after Smith addressed the room for the first time as prime minister to a sold-out crowd of 500 at The Westin.
Chamber President and CEO Deborah Yedlin said these were two very different approaches to the presentations. The prime minister was focused on introducing her team and hitting key messages from her campaign trail, including the sovereignty bill. Notley, meanwhile, was focused on a collaborative approach to solving Alberta's issues.
"I think that's something that's very important because we know that if we want to move forward with serious files, like climate change, like the energy transition, we have to be able to work with partners across the country," Yedlin said. .
jaldrich@postmedia.com
Twitter: @JoshAldrich03