The program will be done alongside increased security patrols and upgrades to surveillance and lighting at certain stations.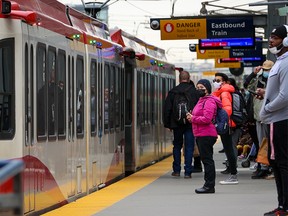 Article content
Calgary Transit's new ambassador program has been tried elsewhere, but there's still a lack of hard data to show if it's working, according to one transit expert.
Article content
The city announced Monday that it will launch a Transit Ambassador pilot program that will see transit staff wearing red jackets and scarves ride the CTrains and move through stations.
Article content
The program will be done alongside increased security patrols and upgrades to surveillance and lighting at certain stations.
Stephen Tauro, communications and information lead for Calgary Transit, said they rolled out the pilot program "pretty quickly" because they wanted to get the staff members out to make a difference.
"This is just the first kind of kick on the show," he said. "So we're just going to monitor and see how things go."
He said a recent study conducted by the Bloomberg Center for Public Innovation found that the visual identity of ambassadors on the train is effective in terms of improving the customer experience and perception of safety. The city could not provide the results of that study.
Article content
"Very rarely will you go into an area where you don't see any employees from the organization, and I think this is a step to show customers that we are there on the system," Tauro said. "We experience what they experience. It's all part of building that community around transport."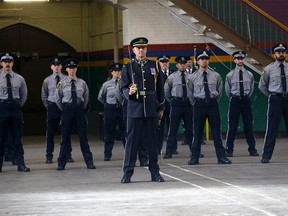 The ambassadors – 20 so far with plans to grow that number to 40 – are drawn from Transit's pool of customer service employees. They work two different shifts that they work from 6:30 am. to 9 p.m. deck, and they spend all that time on the transit system.
Calgary Ambassadors will not do any form of enforcement or check tickets for fares.
"The scope of these ambassadors is pure customer service," Tauro said. "They will have cell phones from the end of this week, which they will be able to use to report any safety issues they do see through our type of service, but they are not there for safety purposes.
Article content
"They're just really there to find ways, answer customer questions, that type of thing."
Similar programs in operation in US cities
The ambassador program is not the first of its kind. The Bay Area Rapid Transit System in San Francisco launched a program with 10 ambassadors in 2020.
That system sees ambassadors in uniform trained in de-escalation techniques and carrying police radios so they can easily call for help if needed.
Chris Van Eyken, program manager at the U.S. transit advocacy group TransitCentre, said the idea of ​​transit ambassadors is still fairly new, and there isn't much data to show how the programs affect crime and social disorder on the system.
He said in addition to San Francisco, there are similar programs in Seattle and Boston, although those ambassadors also do things like check tickets.
Article content
"It is also seen as a way to expand the agency with more official presence," Van Eyken said.
He said part of that is about having an unarmed non-police presence that is going to be more accessible, especially to members of minorities or disenfranchised communities.
"For some people, a police presence does make them feel safe on the system, but for others it makes them feel uncomfortable and it makes them feel a threat of, you know, maybe this person is going to harass me because I don't pay," he said.
City launches transit ambassador program in effort to boost ridership and safety

Calgary Transit says it needs a year to reach pre-pandemic staffing levels

Transport fares are set to rise by 11 per cent in the four-year budget plan
Van Eyken contrasted the ambassador programs he's seen with a different approach in Philadelphia, where the city has set up a "Hub of Hope." It is a resource space for the homeless or anyone in need to go for help.
"(It's) where homeless riders and even other riders who are just about to lose their housing can find resources to get placed into housing," he said. "They can find work. They can even get a hot cup of coffee and do laundry."
Calgary has plans for a hybrid health and police center downtown in the near future, but details about it remain scarce. Funding for this hub was announced on 1 October by outgoing Prime Minister Jason Kenney.
brthomas@postmedia.com
Twitter: @brodie_thomas