Bringing Nitro RX to Calgary in February will ensure a snow and ice track to keep things interesting for the electric vehicle racers, said Brett Clarke, president of Nitro Rallycross.
Article content
A new kind of horsepower is coming to Calgary Stampede Park this winter.
Article content
Nitro Rallycross, a new global motorsports series, will host a snow and ice race in Calgary on February 4th and 5th at the Calgary Stampede's GMC Stadium. Nitro RX combines the competition of rallycross with the big air excitement of Nitro Circus, on a series of unique tracks.
Article content
"With this next evolution in motorsport, this year we launched a new 1,000 horsepower electric vehicle. It brings a new form of horsepower to the Stampede," Brett Clarke, the president of Nitro Rallycross, said at a news conference at GMC Stadium on Tuesday.
The all-electric FC1-X is capable of producing the electric equivalent of 1,070 peak horsepower, and accelerates from zero to 60 in 1.4 seconds.
"The best way to sum up Nitro RX is our tagline, which is: 'cars that fly and tracks that thrill.' We are going to see it in full here in February."
Article content
Other venues during the inaugural global season include the UK's Lydden Hill Raceway and a dirt surface at Los Angeles' Glen Helen Raceway. Bringing Nitro RX to Calgary in February will ensure a snow and ice track to keep things interesting for the electric vehicle racers, Clarke said.
The Stampede's stadium track will be modified to create an adrenaline-charged track, Clarke said. Construction begins this weekend with the goal of releasing the track design in a few weeks.
"We have some exciting additions to the track that I think will blow people's minds," he said. "We want every track to be different. So, we went from forests to small dirt paths."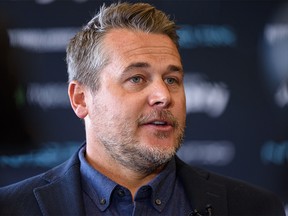 The event promises to showcase the world's best Nitro RX drivers, including Travis Pastrana, who will defend his 2021 championship.
Article content
Clarke said the race was high stakes for the drivers who will be preparing for the season finale in the United States a month later.
Nitro RX driver Fraser McConnell is from Jamaica and said he is eager to compete on snow and ice for the first time in Calgary, where Jamaica's first ever bobsled team made history at the 1988 Winter Olympics.
"To be in the same city as the debut for the Jamaican Olympic Winter Games is really special for me," he said. "It's going to be a new challenge for me to be in the ice because you know, there's not that much of it in Jamaica, but we'll adapt well, learn the rink and try to be fast."
McConnell joked he might turn up his AC to get used to the cold as he prepares to race in the next few months back home.
Article content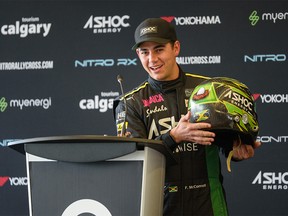 Carson Ackroyd, senior vice president of sales at Tourism Calgary, said they have been working to bring an event like this to Calgary for more than three years. It is expected to generate $11 million in economic spinoffs for the city.
"The event aligns perfectly with our strategy to embrace winter in Calgary and, certainly, to be a year-round eventful city," said Ackroyd. "Calgary has a legacy of being a winter sports capital and we really believe this is a fantastic opportunity to add to the mix."
Nitro RX joins Calgary's new Chinook Blast Winter Festival, which drew 450,000 people earlier this year. Ackroyd expects more people to attend the next festival as Nitro RX fans from around the world visit the city.
Article content
"Stampede Park is always looking to activate and bring people together," said Steve McDonough, Stampede President and Board Chairman. "I think it will give a real spark to the city."
He said the Grandstand had hosted motor racing in the past, "many, many years ago." And he added that in 1921 the park had a ski ramp for winter activities.
Tourism sector is looking at an optimistic recovery

Chinook Blast kicks off in Calgary after delay

Province pledges $63 million to jump-start tourism in COVID-ravaged Alberta
The Nitro RX event will also provide opportunities for attendees to meet the drivers and see the cars up close. The races will be broadcast in 180 territories worldwide as the new motorsport series gains international attention.
Tickets go on sale Friday at 10 a.m. online at nitrorallycross.com and will be available in single-day or weekend pass options for $25 or $30. And VIP club passes are available for $125 for Saturday, $130 for Sunday or $250 for the weekend.
sbabych@postmedia.com