Students will have a school within their community, which offers many benefits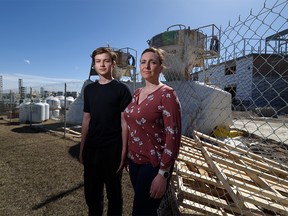 Article content
After concerns that it might be fully built but sit empty for a year, the new North High School will in fact open next fall to the delight of hundreds of families on the city's northern edge.
Article content
The $70.5 million state-of-the-art project will welcome up to 1,800 students, with many able to walk from communities like Coventry Hills, Country Hills and Panorama Hills instead of spending hours commuting to inner-city high schools like William Aberhart. or Crescent Heights.
Article content
"It's such great news, it's really unbelievable," said Tamara Keller, with the Advocates for North Calgary High School Group, which has been fighting for the high school for more than a decade.
Keller's younger son, now in 9th grade, will be able to start at the new school next fall. And since the Keller house backs onto the green space where the school was built along Coventry Hills Way, his walk will only take minutes.
"It's really hard to put into words, for all the people in our community who have put in so much time and effort to advocate, add their voices, come to rallies, fundraise and do so much hard work, is such a win for everyone."
Article content
Keller worried this past spring that the school might not open until 2024 because of uncertainty over whether the Calgary Board of Education would be able to access the labor and materials to complete interior work, even though exterior work is nearly complete.
But CBE officials confirmed a fall 2023 opening, and this month finalized $8.6 million in capital reserve "fit-up" funding to complete the project, leaving a total of $29 million remaining in overall capital reserves.
"I literally looked at this school every day from my window, I didn't want to have to look at it for another year without it being open," Keller added.
"Now my son is only going to walk a short distance, on a nice path, straight to his school. It warms my heart very much."
Article content
Alberta Infrastructure has confirmed that base and exterior construction will be completed by mid-2023, including the completion of classrooms, gymnasiums, a commons, mechanical and electrical work, as well as exterior finishes such as masonry and roofing.
But the CBE is still on the hook for the "adaptive" funding that supports the finer details of interior work before opening, such as installing computer hardware and Wi-Fi networks, said Dany Breton, CBE superintendent facilities.
Other expenses not covered by the UCP government's construction grant also include a host of materials and resources needed for programming, from musical instruments to laptops and iPads, as well as administrative salaries for staff who are in school during the summer must be to prepare. it for opening.
Article content
But Breton explained the extra capital reserve funding will ensure a quality learning experience for students.
"When you look at the career and technology resources and equipment that students will get … it's very, very on par," he said.
"This will enable a seamless transition for students into whatever they do after high school, whether it's after school, or going directly into the workplace."
North Calgary High School may open one year earlier than planned

CBE finalizes budget amid no funding increase and rising costs

CBE forced to pull $8 million from reserves to open new schools
Unique learning opportunities include an outdoor rooftop garden for horticulture students, construction and design classes, cooking, auto body shops and even special ventilated spaces for indigenous smearing ceremonies.
Article content
Keller agreed that families look forward to the cutting-edge programs expected at the school, saying that "the CBE is building a school for the future and offers programs for a wide range of interests."
But, most importantly, she added, students will finally have a school in their community, which offers many benefits.
"It all comes back to the whole concept of time is money.
"The children will no longer have to ride the bus for how long every day. It frees up time to have a part-time job, to provide after-school care to siblings, to have closer relationships with teachers or school counselors because they can arrive early or stay late after school."
Keller added students who can walk to the new school will also save hundreds of dollars by not having to buy a monthly bus pass.
Calgary Transit now charges $82 for a monthly youth pass, meaning students must pay a total of $820 a year to take the bus to and from school.
Keller said, "It's a big cost for a lot of families, especially with the cost of living being so high, everything is so expensive now."
eferguson@postmedia.com