Article content
Federal NDP Leader Jagmeet Singh said he looks forward to connecting with Albertans as he heads to the province this week to discuss affordability and health care concerns.
Article content
Singh will visit Calgary on Friday and travel to Edmonton on Saturday to meet with health care workers and families in Alberta. He said he will listen to their concerns about the rising cost of living and the health care system, and work with them to find possible solutions that he can take back to Ottawa.
Article content
"We've heard a lot of alarming stories from Alberta about the state of our health care system, so we want to meet with health care workers to talk to them about what's going on," Singh said in a phone interview Thursday.
He said they have already heard concerns about a shortage of health care workers, which is a problem across the country. But he wants to hear more about how the federal government can help strengthen Alberta's health care.
Article content
"Part of it is the federal government stepping up with more investment in health care because for years and years the federal portion of the investment in health care has been declining," Singh said.
Affordable housing on NDP and Liberal radar, Jagmeet Singh tells FCM conference

Jagmeet Singh defends NDP climate plan, criticizes liberal policies

Leader Jagmeet Singh says NDP will support the Liberal budget
On affordability, Singh said he's proud of the work the federal NDP has done to improve the financial situation of Albertans and other Canadians struggling to make ends meet.
Singh pointed to the NDP's hand in getting a GST rebate of up to $467 for 995,200 Albertans, rental benefits of up to $500 for 140,000 Alberta families and the dental benefit — which started Thursday — providing up to $1,300 in coverage for 82,308 Alberta children.
Article content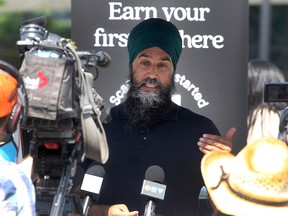 "These are some concrete things, but we are pushing for more," Singh said.
Singh also took aim at Premier Danielle Smith's Alberta sovereignty within a United Canada Act.
"It gives too much power to the prime minister and cabinet," he said.
"At a time when Albertans are concerned about the cost of living and their health care system, Premier Danielle Smith is putting a bill on the table that has no impact on affordability, no way to really respond to the health care system, and shows that the premier is out of touch and disconnected with what real people are going through."
Smith, who introduced the bill on Tuesday, previously said the bill was intended to notify the federal government about provincial jurisdiction.
sbabych@postmedia.com