The proposed link between government funding and organizational vaccine policy is at the center of the NDP's complaint to the Alberta Ombudsman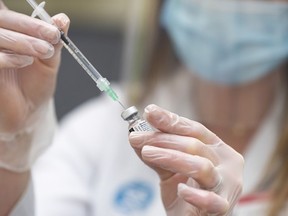 Article content
Alberta's NDP has filed a complaint with the province's public interest commissioner over news Premier Danielle Smith and her ministers are personally calling organizations that have mandatory COVID-19 vaccination policies.
Article content
Speaking to reporters Monday, Smith cited an unnamed movie production set that reportedly would not hire unvaccinated hairstylists and a sports competition taking place in Fort McMurray next year as examples of groups that have been contacted.
Article content
With that event, the Arctic Winter Games, Smith said organizers asked the province for $1.2 million in funding and proposed that the province make that funding contingent on removing the games' policy requiring participants to wear COVID-19 should be immunized.
"They discriminated against the athletes and told them they had to be vaccinated. So we asked them if they would reconsider their vaccination policy in light of new evidence. And they did," Smith said. The Arctic Winter Games announced in a Nov. 18 news release that it is rescinding its mandatory COVID-19 vaccine policy.
Article content
The proposed link between government funding and organizational vaccine policy is at the center of NDP legal critic Irfan Sabir's complaint to Alberta Ombudsman and Public Interest Commissioner Peter Sherstan.
Sabir charged that an investigation should be launched into whether the UCP government is violating laws that prohibit "reckless or willful disregard for the proper management" of public funds.
"The premier and ministers of the crown subjecting Alberta government grant money to such arbitrary demands and/or their personal beliefs raise serious questions about the government's overreach and process for allocating public funds," reads the NDP complaint.
The prime minister's office did not respond to a request for comment on Tuesday.
Article content
Smith said Monday she wants Albertans to tell their MLAs whether any businesses or employers still have COVID-19 vaccine mandates, adding that she and her ministers will continue to make these calls.
Premier Smith refuses to recommend masking amid high absenteeism rates in Alberta schools

Braid: Albertans won't forget Smith's talk show years — because she meant what she said
"Those are the kinds of things we will do," Smith said. "We just want to remind people that in this province we do not discriminate against people for any reason."
The prime minister's comments came as she backed away from a core promise of her leadership campaign to legislate protections for those who have not been vaccinated against COVID-19.
She said the government would need more time on the file, meaning it would likely not be tabled during the legislative session that began Tuesday.
Article content
Vaccine policy is changing within the film industry, say local leaders
Changing trends on COVID-19 protocol in the film industry mean Smith's comments are unlikely to have a major impact on the industry locally, according to the union that represents many of the city's film workers.
Damian Petti, president of the International Alliance of Theatrical Stage Employees, said he had heard from many members following Smith's comments on Monday, but that there was no immediate cause for concern about lost investment.
"The industry is currently changing its mandates… In recent weeks we have seen major studios such as Disney withdraw their mandates in the United States. So in the short term the impact seems to be limited," said Petti.
Article content
However, Petti was concerned that further government interference in the production industry could cause problems.
"The question some are asking is, what comes next? Because the industry relies on a stable environment politically and in terms of incentives," he said.
"If the government can reach out on an issue like vaccines, what other issues can they reach out to? We hope this is an isolated situation."
Testing policies remain in place for most local productions, said Luke Azevedo, Calgary's vice-president of economic development responsible for film, but vaccine policies mostly remain in place for workers who interact directly with cast members. He said protocols vary by set, but that the industry is generally moving away from pandemic-related measures.
Article content
Azevedo said things like contracts and insurance agreements need to be addressed before productions can change their health protocols. He said the provincial government had done work to promote investments from the film industry and grow job opportunities in the sector.
"Our unions and guilds and associations are working with the studios to understand what protocols are going to be next, what's going to be going forward, so that we can be in a position to adapt to that and continue to be an important player in to be the film and television industry," he said.
In a statement, Calgary Chamber of Commerce president and CEO Deborah Yedlin said the business community has indicated that staying open and protecting workers is critical to success.
"With Alberta facing a labor shortage, businesses simply cannot afford to have employees get sick, especially as we head into the holiday season," Yedlin said. "All businesses must have the ability to do what is necessary to keep their employees safe and businesses running."
Sabir accused government officials of calling private organizations directly about vaccine policy amounted to "intimidation and harassment," and said it risked driving away investment.
"It damages Alberta's reputation. It's definitely damaging Alberta's business environment," Sabir told Postmedia.
jherring@postmedia.com
Twitter: @jasonfherring