The global tech giant's CEO said the funds will be used to direct mid- and senior-level talent to Calgary, along with developing new grads and those transitioning out of oil and gas.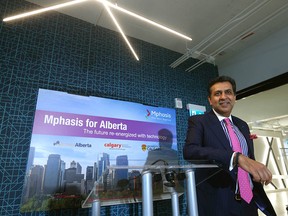 Article content
Global technology giant Mphasis will receive up to $7 million over four years from the Opportunity Calgary Investment Fund to accelerate the recruitment and hiring of 560 people and work-integrated learning opportunities for up to 100 students.
Article content
Mphasis announced last year that it had chosen Calgary as its Canadian headquarters and officially opened its downtown office in June with the promise of bringing 1,000 jobs to the local sector.
Article content
Thursday's announcement will help them get there.
"We're not just talking about talent. This is tech talent, where in the world there is a tech talent war going on," said Nitin Rakesh, CEO and MD of Mphasis.
Article content
Mphasis assists companies with solutions for everything from cloud services to secure communications and is considered one of the leading additions to the city's technology sector. In the past three months, the company has gone from 50 employees to 160 and said at its summer opening that it plans to hire 200 in the first 12 to 15 months.
Article content
Global tech firm Mphasis launches in Calgary with potential for hundreds of jobs

Calgary tech remains strong amid economic uncertainty

No longer a one-trick pony, perception of the oil town of Calgary is changing
Rakesh said the funds will be used to target intermediate and senior-level technology talent to Calgary. He also said the company will work to develop the new grads and people who have switched from other industries such as oil and gas.
Article content
The funding will enable Mphasis to reach the next generation and talent by hosting hackathons and other technology events.
With major global companies such as Google, Facebook and Twitter reducing their workforce in recent months, he sees an opportunity for Mphasis.
"Alberta as a province is growing and thriving, given the energy sector and oil and gas sector and the digital transformation that is planned in the province," said Rakesh. "I think it's a great opportunity for us to get great, great talent from the global market and bring them to Calgary."
Article content
OCIF is a $100 million initiative launched in 2018 by the City of Calgary to attract investment and diversify the local economy. To date, more than $75 million has been committed to 24 projects.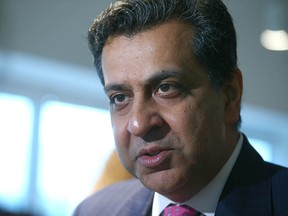 Brad Parry, president and CEO of Calgary Economic Development and CEO of OCIF, was not at the announcement, but said in a press release that it demonstrates the city's commitment to investments to expand the local skilled workforce, to fuel future economic growth drive and accelerate momentum. within the ecosystem.
Mphasis reportedly had $1.6 billion in revenue last year.
While the city consistently points to the skilled talent pool as a major selling point, Coun. Sonya Sharp said recruitment was still needed to meet demand in the sector.
Article content
"There's a bit of a brain drain that's happening in Calgary and students leaving universities and colleges and not having the opportunity for work," she said, pointing to a changing landscape within the workforce. "The more there is in the market, the more competitive it is, and the more opportunities there are not only for students, but your average Calgarian may have an opportunity to change workforces. So having more in the market is for me better and it causes competition and competition is good."
Deborah Yedlin, president and CEO of the Calgary Chamber of Commerce defended the funding of CED.
She said it would put weight behind the city's claims that they are serious about technology in Calgary, "putting our money where our mouth is."
"If we can support that development of the ecosystem, we get more people coming," Yedlin said. "It's going to be a ticket to Calgary. Because other competitors will say 'Mphasis is here. This is what they do. They have grown their workforce. They are a factor in the business community from an economic point of view, from a technology point of view,' and other people will say 'I should be here too.' So it's a way to build critical mass."
jaldrich@postmedia.com
Twitter: @JoshAldrich03