The youth, now 17, will undergo treatment for three years at a secure youth facility associated with Alberta Hospital in Edmonton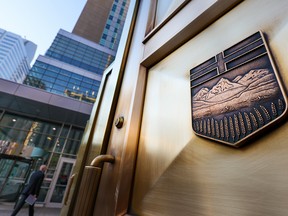 Article content
With a convicted murderer's risk to society unlikely to improve without intensive rehabilitation, a Calgary judge on Wednesday gave a Morley teenager the maximum sentence for manslaughter under the Juvenile Justice Act.
Article content
Provincial Court Judge Susan Pepper accepted a joint Crown and defense submission to have the now 17-year-old serve a three-year term of intensive rehabilitative custody and supervision (IRCS).
Article content
The first two years will be served in a custodial setting with the final 12 months under conditional supervision, Pepper said.
The teenager, originally charged with second-degree murder, pleaded guilty to a reduced charge of manslaughter.
"(The offender's) risk is unlikely to improve without intensive rehabilitation," Pepper said.
She said because members of the IRCS team that set up a treatment program for the teenager said the full three years were required, the offender would not get any credit for the roughly three months he had already spent in custody.
Article content
Pepper said a main goal of the YCJA is to promote rehabilitation and reintegration into society "to contribute to the long-term protection of the public."
"The IRCS assessment and plan make it clear that a sentence of three years is necessary to achieve the desired objectives."
Both Crown prosecutor Kaitlyn Perrin and defense lawyer Vignesh Pillai proposed the IRCS term, which would see the youth undergo treatment at a secure youth facility associated with the Alberta Hospital in Edmonton.
Pepper noted that the perpetrator was extremely intoxicated and did not remember fatally stabbing his neighbor, Nathaniel Jake Beaver, in the heart on June 2, 2021.
According to a statement from agreed Facts read by Perrin during sentencing last month said the youth, then 16, went to Beaver's family home at around 9.30pm that day after he had an earlier altercation with the deceased's older brother, Wahrmun Snow.
Article content
"Nathaniel Beaver answered the door," Perrin said. "The young person stabbed Nathaniel Beaver once with a knife in his upper right chest and then in the left."
The wound pierced both Beaver's lung and heart.
Pepper said that because of his age, the offender would not "fully appreciate the consequences of his actions".
But she said his crime was "an extremely serious one", in which he unlawfully assaulted his victim resulting in a fatal outcome.
"He chose a deadly weapon for that assault. An innocent 19-year-old, a teenager, is dead," Pepper said.
"You did cause the death of an innocent person," she said, speaking directly to the perpetrator.
"I really hope you work really hard on this," she said of the IRCS program.
"Strength!"
KMartin@postmedia.com
On Twitter: @KMartinCourts