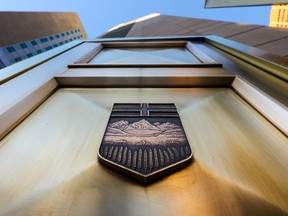 Article content
Believing he was going to trade drugs for sex with an escort, a Calgary man went to a northeast residence where he was instead beaten and brutally sexually assaulted, court heard Tuesday.
Article content
Under cross-examination by defense attorney Adriano Iovinelli, the man said he exchanged several messages over several hours from a number he did not recognize, looking for methamphetamine.
Article content
And after receiving a photo of the alleged sender, he agreed to go to a Bridgeland home with the intention of exchanging drugs for sex.
The witness said Iovinelli's client, Christina Schollen, appeared outside a home on Thomson Avenue NE and led him inside.
He was then jumped, beaten, tied up and taken to the basement by three men, where the assault continued and included being violated anally and orally with a sex toy.
Schollen, and co-defendants Carol Nordvall and Richard Wayne Parsons, face multiple charges including aggravated assault, robbery and sexual assault with a weapon in connection with the April 15, 2019, incident.
Article content
The witness said he had never met Schollen or Parsons, but had hired Nordvall for sexual services a few months earlier.
Iovinelli suggested the text messages that lured the victim into his tortuous assault could have been written by multiple people.
"It is quite possible that it came from different people," says the witness, whose identity is protected by a publication ban.
"It's kind of jumpy and all over the place," he said of the sometimes unreadable exchange.
He said when Schollen ushered him into the residence, there was little conversation.
"Some woman comes to your car with whom you are going to have sex… you don't remember the conversation?" asked Iovinelli.
"I don't think there was much conversation, maybe 'hello,'" the witness said.
Article content
The man also agreed he consumed large amounts of methamphetamine and alcohol during and after the incident and had to try to "put together" what had happened to him.
But he was adamant the assault included Schollen burning him with a "butane torch" after he was returned to the main level and sent to a washroom to clean up.
Up to that point, he agreed with Iovinelli that his client had taken no part in the assaults, or successful attempts to siphon $13,200 from his bank accounts through wire transfers and ATM withdrawals.
"You said you were burned in the groin area," the attorney said, pointing to hospital photos of multiple injuries that did not show such a wound.
"I know I burned," said the witness.
One suspect has never been identified, while a fifth, Alain Boisjoli, pleaded guilty last year to charges of aggravated assault, robbery and illegal detention and was sentenced to 4 1/2 years.
KMartin@postmedia.com
On Twitter: @KMartinCourts