The Urbos 100 LRV looks sleeker than the vehicles Calgarians are used to seeing on the Red and Blue Lines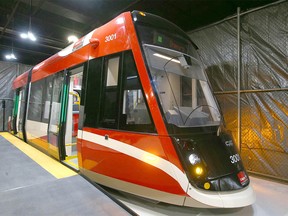 Article content
Decked out in the familiar red and white Calgary colors, the city showed off a mock-up of its new Green Line LRVs Tuesday afternoon at the Anderson Transit garage.
Article content
The Urbos 100 LRV looks sleeker than the vehicles Calgarians are used to seeing on the red and blue lines. The most noticeable difference is the low floor, which Green Line CEO Darshpreet Bhatti said will allow the city to build lower stations that are more accessible.
Article content
"Having something that's low creates and provides an infrastructure that's less invasive, so you don't have to have massive ramps and big platforms," ​​he said. "You can approach these vehicles with something much lower."
He said in most cases the stations will be about curb height.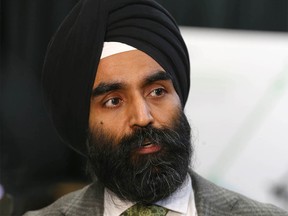 Shakti Sarai, senior manager of LRV with the Green Line, explained that because the doors are so low to the ground, the wheels end up protruding into the passenger compartment. Raised seats were built around the wheel wells.
Article content
"And so we work the seating arrangements around the wheel spaces there," he said. "And we also work our accessibility spaces around the places where the wheels protrude into the body to maximize accessibility and maximize passenger capacity within that vehicle."
Sarai said the new cars will have automatic train protection technology, which he likened to smart cruise control on newer vehicles.
"It's going to be there to help the operators if they get attention," he said. "If they're speeding, the vehicles will obviously bring them back to the speed limit for that infrastructure."
Green Line's CEO says the project has undergone intensive due diligence

Criticized Smith for raising concerns about UCP-approved Green Line tunnel

Two consortia qualify to compete for $5.5B Green Line contract
The LRVs will be 42 meters long, compared to the 26 meter Siemens S200 on the red and blue lines. Each car will have 73 seats and can hold up to 288 people; the Siemens can only hold 181.
Article content
Bhatti said they plan to start with two-car trains on the Green Line, but he expects they can scale it to three cars as needed.
The mock-up had to be shipped from Barcelona by Spanish manufacturer CAF and traveled through seven countries on its way to Calgary. Just 12 meters long, it will help city engineers work out the finer details as they work on the final design.
Sarai said if changes come, they will likely be within the systems.
"We're going through the actual systems and subsystems of the LRV: brakes, HVAC, signaling systems, CCTV systems, etc. But as you can see, the LRV (now) is probably what it's going to be like on the revenue service date."
Bhatti said there are plans to display the mock-up to the public in the summer months once the engineers and experts are done with it, but those details have yet to be worked out.
brthomas@postmedia.com
Twitter: @brodie_thomas