Many people think the city is still dominated by corporate and cowboy culture, and it's hard to fit in if you don't identify with either of those segments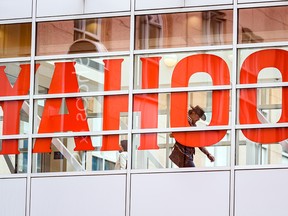 Article content
The Calgary Chamber of Commerce says the city needs to rebrand and change its reputation to sell itself to the rest of Canada as a place to live and work.
Article content
On Tuesday, the chamber released its final report in a series called Unblocking our Talent Potential that looks at solutions to a worker shortage. This fourth report said the city needs to do a better job of telling its story of diversity, economic diversification and arts and culture to the world.
Article content
Deborah Yedlin, president and CEO of the chamber, said it's about taking control of our own story and not letting outdated stereotypes dominate the discussion.
"It's a very, very important part of how we work to increase the talents to the city to support that ongoing diversification, and to showcase all the different things that are going on here," she said .
Despite members of the business community and councilors talking at length about how the city has evolved, getting that message to the general population is a separate challenge.
Article content
According to polling by Maru Public Opinion in 2021, half of Canadians would not feel comfortable living in Alberta and there is a perception that life in the province is contrary to the common goals of Canadians. For many — even some in Calgary — the city is still dominated by corporate and cowboy culture, and it's hard to fit in if you don't identify with either segment.
This is contrary to what the city has been preaching and experiencing for the past five years.
Chamber of Commerce calls on city to adjust tax ratio for businesses

'It's a great city': Premier Smith pledges support for Calgary mega-projects

Chamber is pushing for greater post-secondary presence in downtown Calgary

Mayor presents vision of collaboration to Calgary's business community
Yedlin points to record venture capital investment in technology, millions of dollars being invested in arts and culture, and Calgary being the third most diverse city in Canada.
Article content
However, this message doesn't seem to be reaching Calgary's young adults, the demographic the business community is fighting hardest to attract and retain. Eighty-two per cent of those aged 18 to 24 and 68 per cent of those 25 and over believe Calgary needs to address racism and discrimination to attract the workforce it wants.
"Anything that suggests intolerance or racism or discrimination is certainly something we should all be concerned about," Yedlin said. "And I also think, as cities grow and demographics change, some people may feel that they are not as welcome as others. And that really speaks to the importance of making sure we have an open, inclusive city that's really focused on accepting everyone who comes here."
Article content
This is despite an influx of people to the city from across Canada, mainly due to its affordability. The province's Alberta is Calling campaign has sold a lower cost of living and greater opportunity, but Yedlin said much of the country still won't consider the city because of the stereotypes.
Calgary previously went through a rebranding process in 2011 when Calgary Economic Development designed a campaign called "Be part of the energy," ditching the former "Heart of the West" slogan — an unpopular move at the time.
"So much has changed," Yedlin said. "It was aspirational, we are changing, everything is good. And now we can actually say things have changed. And let's reflect that in our brand, because there is so much that makes this city what it is today."
Article content
Brad Parry, president and CEO of CED, said the organization has been working on a rebrand for the better part of a year and will announce new partnerships in the coming weeks with a possible launch in the new year.
For this process, they fully engaged with the city at large, including underserved demographics and Indigenous communities, and delved into those coming to or potentially coming to Calgary about how the city is perceived.
He said they're starting to see that narrative change, but it's going to take time to shift what he calls the historical, untruthful conversation about what the city is.
"For me it's about getting it right, not rushing it," Parry said. "I know people are anxious and want it, and so am I. I just want to make sure we do the right thing for our city because this is not a campaign. This is the foundation of how we want people to see our city in the future."
jaldrich@postmedia.com
Twitter: @JoshAldrich03