Gaining access to Haskayne Legacy Park has been elusive for years, but a deal to build road access to it is now on the verge of being realised.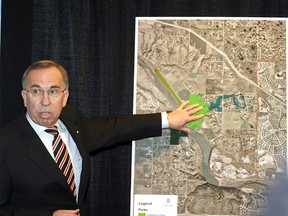 Article content
Public access to a new northwest Calgary park long delayed by a land dispute is finally being secured, the city said Thursday.
Article content
The failure Pedestrian access from the east side of to be negotiated Relax Legacy Park on the city's northwest edge has left the 145-acre expanse a lonely place, even after significant infrastructure building.
Article content
The philanthropist Haskayne family donated 81 acres of that land valued at $5 million and another $2 million build A 2,400 square foot information center that has been completed, along with a trail system.
Haskayne Legacy Park is ready – only thing missing is an easy way to get in

Haskayne family donates land, money for new city park in Bearspaw
But because the park is geographically isolated from the rest of the city and borders private land with no agreement to cross it, access to it has proven elusive.
Article content
Now officials from the city, Rocky View County and the Glenbow Ranch Park Foundation say an agreement to build road access to the park connected to Highway 1a to the north is about to come to fruition.
The arrangement will also connect the park along the Bow River with the western edge of Glenbow Ranch Provincial Park, creating a continuous natural park area nearly adjacent to Cochrane and traversed by the TransCanada Trail.
"We are delighted that the Haskayne Legacy Park is moving closer to fruition," Richard Haskayne said in a statement.
"The dream long held by (my wife) Lois and myself that the magnificent lands stretching from the city of Calgary's western borders would border the Glenbow Ranch Park and be connected to the TransCanada Trail – it just can't much better than that. ."
Article content
In recent years, Haskayne has expressed frustration at the inability to use the land he provided.
The plan hinges on the acquisition by the Glenbow Ranch Park Foundation of 60 acres of land north of Haskayne Park that will house an access road accessible from Woodland Road that connects to Highway 1a.
This road is expected to be completed by mid-2023.
It's an arrangement that will be funded by the Haskaynes and Pauli (Harvie) Smith, whose family sold land at a below-market price to create the Glenblow Ranch Provincial Park more than a decade ago.
"Our family vision in creating Glenbow Ranch Provincial Park was to inspire people to a higher level of environmental stewardship by visiting these lands," Smith said in a statement.
"These latest efforts by all involved help advance the achievement of that vision."
A footbridge in Haskayne Park over the CPR tracks will allow access to the Bow River.
Plans are also in the works for a pedestrian bridge to connect the town of Cochrane with Glenbow Ranch Park's western end.
BKaufmann@postmedia.com
Twitter: @Bill Kaufmann Jr