MP George Chahal called the bill a distraction from the issues of the day, including high inflation levels and overcrowded hospitals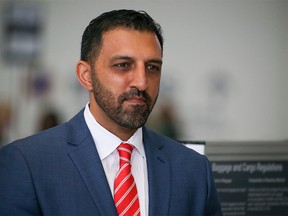 Article content
Calgary's lone Liberal MP has voiced his opposition to Alberta's sovereignty law, calling it a "gimmick," a day after Prime Minister Justin Trudeau said he doesn't want to pick a fight with the province.
Article content
Calgary Skyview MP George Chahal said the act was nothing more than a pre-election ploy to pick a fight with Ottawa. He said the No. 1 priority of any elected official in Alberta should be attracting investment to the province, and said this bill doesn't do that.
Article content
"My personal opinion is that we ignore what they're doing here and we continue to review what they bring up on a case-by-case basis," Chahal said.
The Alberta sovereignty within a United Canada Act was tabled by Premier Danielle Smith earlier this week. If passed, the bill would allow ministers to table a motion to debate whether a federal initiative is unconstitutional or harmful to Alberta. If deemed so, the legislature can then pass a resolution instructing the cabinet on steps to take to fight the initiative. The minister in charge can then take action, including ordering provincial entities to ignore federal plans.
Article content
After introducing the bill, Trudeau said he was not looking for a fight with Alberta, but that he would not take any options off the table.
Chahal took a stronger stance when he spoke to Postmedia on Thursday as well as online Wednesday, hours after Trudeau's comments. He called the bill a distraction from the issues of the day, including high inflation levels and overcrowded hospitals. He said the bill creates uncertainty for employers looking to invest in Alberta, a sentiment the Calgary Chamber of Commerce also raised this week.
"We have to work together, we have to work together," Chahal said. "But also see (Bill 1) for what it is, it's a distraction from the issues of the day."
'It could cause us problems': Alberta's sovereignty bill could deter investment, Calgary Chamber says

Alberta's deputy premier says act of sovereignty is not a power grab, eyes change to bill

The Alberta government is seeking clarification as the NDP calls sovereignty act anti-democratic

Trudeau says Ottawa 'not looking for a fight' over Alberta's Sovereignty Act
Smith's office did not respond to requests for comment Thursday. She previously said the bill was intended to notify the federal government of provincial jurisdiction and provide a legal framework for when that jurisdiction is impeded.
Article content
Chahal's comments came as several members of the UCP caucus who had previously been critical of the law said their concerns had been addressed through cabinet and caucus consultations.
Trade, Immigration and Multiculturalism Minister Rajan Sawhney said at an unrelated news conference Thursday that cabinet ministers had a chance to provide feedback and concerns to Smith.
"One of the things I was deeply concerned about was the aspect of separatism that was brought up in the previous version, and that was addressed in the title of the bill itself," Sawhney said. "With our discussion with legal advisers and experts, this bill will be constitutional and ultimately the rule of law will be upheld."
Article content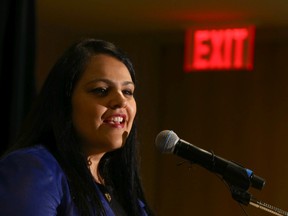 Jobs, Economy and Northern Development Minister Brian Jean has also been critical of previous iterations of the bill. He said Smith was receptive to concerns raised by the UCP caucus.
"This piece of legislation makes us the most democratic county in the entire country," Jean said.
He said there would only be conflict with Ottawa if the federal government didn't "stay in their lane."
Finance Minister Travis Toews issued a statement Wednesday saying he had legitimate concerns about the bill as it was previously presented, but that what was tabled addressed his concerns.
"For me to support this bill, it must be constitutional, support the rule of law and not create business uncertainty. This bill, as proposed, addresses these concerns," Toews said.
Article content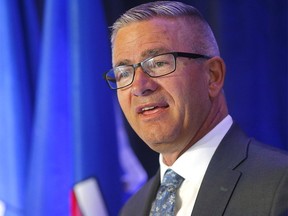 Environment and Protected Areas Minister Sonya Savage also raised concerns about the proposed law in the summer. Responding to questions in the legislature Wednesday, she said Smith's bill addresses the rule of law and it went through a caucus process. Municipal Affairs Minister Rebecca Schulz also said her concerns about the bill had been addressed.
Deputy Prime Minister Kaycee Madu said on Twitter on Thursday that the bill does not give the cabinet unilateral powers to write laws behind closed doors, but that amendments may be needed to clarify this. His post said the legislation clarifies that any legislative cabinet changes must go back to the house for final approval in the form of a bill.
However, the law does not state this and legal experts say the overwhelming power it would give the cabinet, coupled with a lack of legislative oversight, is democratically dangerous. Smith's other deputy premier, Nathan Neudorf, says he believes legislative safeguards are in place but has not read the eight-page bill.
Justice Minister Tyler Shandro said his office is open to amendments for clarity and that they are listening to feedback from Albertans; however, he said no decision on amendments had been made.
– With files from The Canadian Press and Lisa Johnson
dshort@postmedia.com