Article content
The owners of Shane Homes have filed a minimum $1-million defamation lawsuit against the Toronto-based online publication they linked to a plot to implicate former mayor Naheed Nenshi in a bribery scandal.
Article content
In a statement of claim filed in Calgary Court of King's Bench, obtained by Postmedia on Friday, Shane Wenzel and his mother, Edith, say that Canadaland Inc. defamed them in their coverage of the matter.
Article content
In an Oct. 31 article, Canadaland suggested leaked communications known as the Klondike Papers showed "Edith Wenzel, co-owner of the real estate development firm Shane Homes, and her son, Shane, discussed with (Prem) Singh communicated the plot," the claim reads.
"Edith Wenzel wrote to Singh that she met Singh and her 'unsavory' friend three times, whom she also referred to as Singh's 'dark acquaintance.' She wrote that although she found the 'scheme' suspicious, she still contributed more money to the effort, as did her son Shane — in 'an amount he could not afford,'" the lawsuit quoted the article as saying.
Article content
"The price for the job, Wenzel was told, had now grown to $50,000. Wenzel wrote that she was unaware of the details of what the scheme entailed, and should not be considered an accomplice to the plot."
The lawsuit also names two employees in Canada as defendants, as well as "fixer" David Wallace and Singh.
"The Canada Defendants falsely and maliciously published or caused to be published on the Canadaland website an article entitled 'Calgary Conservatives Planned to Entrap and oust Mayor Nenshi in a 'Big Shop Fraud' Scheme: Political correcter David Wallace says he was paid for failed Operation Peacock'," it says.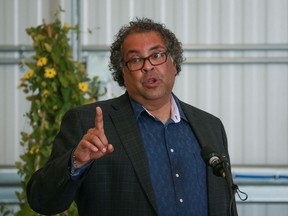 The court document says the Wenzels knew Singh as a political fundraiser who ran several nonprofits, and from time to time provided financial support to her legal efforts.
Article content
"The defamatory statements, and the insinuations arising therefrom, are false and were made by the defendants with malice, knowing them to be false or with reckless disregard as to whether they are true or not," it said.
"The defamatory statements were made by the defendants notwithstanding the fact that they knew, or should have known . . . the plaintiffs did not provide funds to Ms. Singh to deceive, corrupt and entrap Mayor Nenshi," it said.
The lawsuit says the article caused serious damage to both plaintiffs' reputations.
"As a result of publishing, broadcasting, streaming or downloading the defamatory statements, the plaintiffs have been subjected to ridicule, hatred and contempt, and have suffered damage to their reputations personally and in the way of their business."
The suit seeks unspecified general damages, plus $1 million in punitive, aggravated and exemplary damages.
A statement of defense disputing the unproven allegations was not filed.
KMartin@postmedia.com
Twitter: @KMartinCourts