Michael Anthony Roebuck was found guilty of first degree murder in the killing of his neighbor, Daniel MacDonald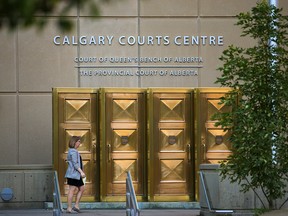 Article content
Moments before he was sentenced to life in prison for the cold-blooded murder of his neighbor in broad daylight, an Airdrie man told the court there is no justice in Canada.
Article content
"There's no way a person can defend themselves," Michael Anthony Roebuck said before Judge Michele Hollins ordered him to serve a minimum of 25 years without parole.
Article content
"Canadians don't feel safe. Courts don't have their backs and the police don't have their backs."
Roebuck's comments came after the Court of King's Bench judge completely rejected his claims that he did not intend to kill Daniel MacDonald and he was provoked into shooting the victim.
Hollins also said defense attorneys Krysia Przepiorka and Shelley Moore were correct not to argue that Roebuck, now 63, was acting in self-defense when he shot MacDonald twice in the victim's driveway with other neighbors looking on and children in the played street
Hollins found Roebuck guilty of first-degree murder in the fatal attack on September 7, 2019.
Article content
Roebuck had an ongoing dispute with MacDonald, who lived a few doors away, after the two men's friendship broke up months before the murder.
Killer had time to cool his emotions before loading shotgun and fatally shooting neighbor, prosecutor says

Murder suspect repeatedly said something would happen to his neighbor before fatally shooting him, court heard

Airdrie man accused of killing neighbor suggests evidence was tampered with

Airdrie murder suspect says he was afraid his neighbor was going to burn down his house before he shot him dead

Widow immediately suspected Airdrie neighbor when she found her husband dead in the driveway

Airdrie man shot dead by neighbor after punches at nearby gas station, homicide inquest heard
The defense argued that Roebuck was provoked into the deadly attack, which can be reduced to manslaughter, during an altercation the two men had in a nearby gas station parking lot near their homes, just minutes before the murder.
Article content
But Hollins said for that defense to succeed, she would have to accept the perpetrator's claim that MacDonald stood over Roebuck in the parking lot after he pushed him to the ground and threatened to "burn him out."
Roebuck said he feared the threat meant MacDonald would burn down his house, possibly with him inside.
But Hollins agreed with Crown prosecutors Joe Mercier and James Doran that video from a nearby car wash discredited Roebuck's claim that the threat occurred.
During Roebuck's testimony, he said he was knocked down three times by MacDonald and after the third stood over him, pointed at him and made the threat.
But in cross-examination, Doran played the entire exchange between the two fighters showing that MacDonald only knocked Roebuck down once and never stood over him.
Article content
The killer claimed the video had been altered, a claim he maintained until the bitter end.
"The travesty that went on with that video will come out one day. That's all I can say," he told Hollins in closing his comments in court.
Roebuck's sentencing was to be delayed as 13 family and friends of the deceased submitted victim impact statements.
But none of them wanted to wait to see Roebuck sent to prison, and they each told Mercier they wanted to retract their statements.
Roebuck will not be eligible for full parole until September 6, 2044. An earlier plea deal worked out by his former attorney, Kim Ross, on a charge of second-degree murder, which Roebuck later denied, would have made him eligible for freedom nine years earlier.
KMartin@postmedia.com
On Twitter: @KMartinCourts