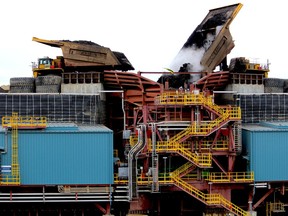 Article content
The oil and gas sector will continue to help Alberta's economy outperform the rest of the country, according to ATB Financial, but there will still be some pain for Albertans in the year ahead.
Article content
The crown corporation's economic forecast for 2023, released on Wednesday, suggests the province's real GDP will fall from five to 2.8 per cent, but will continue to outpace Canada as a whole, which could see a recession in the new year.
Article content
"We're just trying to emphasize that there's this kind of push-pull, positive-negative," says Rob Roach, deputy chief economist at ATB Financial. "It's much better to be in Alberta right now with this overall growth, but that doesn't mean all is well for everyone."
Article content
Alberta has benefited from high oil prices over the course of 2021, leading to higher revenues and pushing the province to an expected $12.3-billion surplus.
Oil companies produced a record 3.88 million barrels of oil per day in September. With the Trans Mountain Pipeline expansion expected to be completed in the third quarter of 2023, an additional 690,000 barrels of export capacity will be brought online.
Article content
Roach said he expects a 20 per cent jump in capital spending on oil and gas development next year and another five per cent in 2024. But that will likely be the last major capital investment in Alberta's sector for the foreseeable future.
"It hits that wall after next year," he said. "Without more pipelines, you just can't keep expanding production."
Article content
Recession proof? The Alberta economy is expected to avoid Canadian GDP contraction

Alberta middle of the pack in economic handling of the pandemic: report
He says there is cautious optimism for the city, bolstered by the current energy market coupled with diversification of the local economy, specifically with record growth in technology. Still, there is a long way to go for economic balance between energy and other sectors.
Article content
"It takes time to add something," Roach said. "It will not get to the point where it can compete with oil and gas, maybe never. That's a big, big tall order. But in terms of economic growth, economic activity, it's been positive and there's no reason why it won't continue."
Consumers facing higher costs for rent, groceries and utilities still have a tough year ahead, Roach said.
Inflation has cooled since its highs of 8.1 percent year-on-year this summer, down to 6.9 percent nationally in October, but there are still a number of global factors that will continue to have an effect.
The war in Ukraine remains a wild card in how it affects global energy prices, supply chains and other commodities such as grain.
Supply chains are improving, but challenges remain, especially if COVID-related restrictions cause further disruptions. China has already seen disruptions in a number of sectors, particularly those that rely on computer chips.
Article content
While gas prices have fallen from their summer highs, they continue to contribute to rising costs at grocery stores and other retail, especially as diesel remains about 60 cents a gallon higher than gasoline.
Real estate is also expected to remain strong in Alberta in 2023, bolstered by the migration of 60,000 people to the province in 2022 from other countries.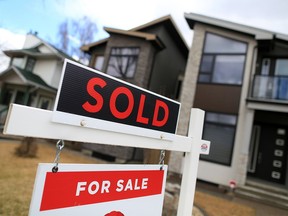 The price of housing is off its record pace from 2021 and early 2022, but Re/Max predicts a seven percent increase in the price of single-family homes in Calgary in its 2023 Canadian Housing Market Outlook, released Tuesday. Only Muskoka, Ont., and Halifax are expected to see a higher increase in the price of a home at eight per cent, while Canada as a whole is looking at a 3.3 per cent drop in home prices.
Article content
In Calgary, the average home sold for $658,277 between Jan. 1 and Oct. 31, up 13 percent from $585,025 over the same period in 2021.
The Bank of Canada tried to slow inflation and raised its benchmark interest rate from 0.25 percent in March to 3.75 percent in October. Roach said he expects rates to rise another 25 to 50 basis points next week. The strategy has had the desired effect of lowering prices in most other real estate markets, but Calgary remains an outlier.
He expects the bank to stop raising rates next year, but it will be 2024 before a drop is likely.
"It is unlikely that they will stop at four," says Roach.
"We think there is still enough inflation that they will have to get into that 4.25 range. However, the interest rates will be high all year, even if they stop raising them."
jaldrich@postmedia.com
Twitter: @JoshAldrich03