Minhas Brewery & Distillery will produce Simmons' new spirit at its Calgary distillery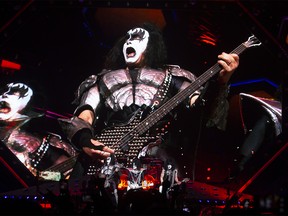 Article content
Gene Simmons doesn't really care for booze.
Article content
Seemingly a rarity in the rock 'n' roll world, the KISS frontman has never shown interest in the nearly 50 years he's donned his iconic devil war paint and dragon boots on stage.
Article content
But that hasn't stopped him from launching a homegrown Calgary spirit, MoneyBag Vodka — because it's never been about what he likes.
"People seem to have a misconception of how life works. This is very bizarre to me. . . I personally don't like spinach souffle, but if you want a spinach souffle at Rock and Brews" — a restaurant chain he founded with bandmate Paul Stanley — "we'll make you one," Simmons said Tuesday in an interview with Postmedia.
"What does what I like have to do with what people should have?"
Article content
Simmons will be in Calgary this week for the official launch of his new spirit, which will be distilled locally at Minhas Brewery and Distillery. He will meet fans and sign bottles of MoneyBag at two events: Wednesday at 6:30pm at Minhas Brewery and Thursday at 10am at Sobeys Liquor in Royal Oak.
MoneyBag comes in true extravagant Simmons style. Bottled in a glass decanter shaped like a bag of money – similar to the tough burlap sacks old school bank robbers slung over their shoulders – the vodka is distilled 10 times and filtered through real gold.
"It's literally the best vodka out there," Simmons said.
'People care': Strong work ethic brought Simmons to Calgary
Manjit Minhas, the distillery's co-founder and a titular Dragon from CBC's Dragons' Den, said the opportunity to work with Simmons came through "luck, timing and hard work all together." Noting specifically the gold filtration — which she described as an "off-the-cuff" request by Simmons — she said the project had many firsts for her and the distillery.
Article content
"There's a lot of creativity, which is the epitome of Gene," she said.
"We're just really excited about what came out of it and now we're excited for people to really taste this product in their own drinks or martinis or however they like to drink vodka."
Coming to Canada, and specifically to Calgary, to produce his new signature vodka came down to a need for a strong work ethic, Simmons said, adding that "people care" here.
"If we put the brewery in New York or LA, I don't know how to tell you this, but they're just not going to care as much. And in Calgary you have people who are dedicated to what they do," he said, adding the same goes for Edmontonians or "even a Newfie."
Simmons isn't slowing down
Simmons' own hard work has led him to start several new business ventures over the past decade — the rock star has dabbled in cannabis, soft drinks, restaurants, clothing and life insurance, among other ventures. He sang it all as KISS prepares to resume its farewell tour next year, which he says should make its way across Canada in the "near future."
Article content
Busy as ever at the age of 73, he scoffs at the mere mention of the word "retirement".
"The whole concept of retirement is a losing proposition," Simmons said. "Doctors will tell you, 'OK, you don't want to work, that's fine, but get your lazy ass off the comfy chair and get out there and walk.' Keep your heart pumping until you die; that's what you're supposed to do."
Minhas said that drive shows that he is working with Simmons. He is one of the few people she has met who she says has rivaled her own work ethic.
"He is 30 years older than me and I can only hope and dream to have as much zest for life and energy," she said. "He's definitely one to keep up with. But I love that, whether he's at a concert or coming out with a product or on the KISS Cruises – just whatever he's doing – he's always learning. There was really a lot of back and forth between him and me and our teams."
MoneyBag's launch will soon see 750ml bottles of spirits on liquor store shelves. Minhas said there are plans for 50ml minis, 1.75L handles and 3L Texas mickeys to be released in the future, with the same unique and artistic bottle design.
After the Calgary signing, Simmons is heading to events in Edmonton, Saskatoon and Regina as part of MoneyBag's launch.
For more information about MoneyBag, visit moneybagvodka.com.
mrodriguez@postmedia.com
Twitter: @michaelrdrguez