"These numbers are unprecedented largely because we have two viruses circulating at the same time as COVID … Children need to be in a place where they can get oxygen, which is in the hospital.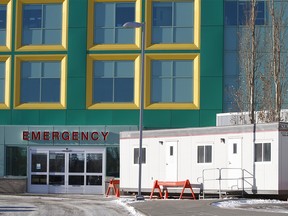 Article content
Alberta's health minister says he does not expect additional emergency measures will be needed to handle an increase in patients at the Alberta Children's Hospital.
Article content
Alberta Health Services said this weekend it will suspend respite care at a Calgary children's hospice center to redeploy staff to the struggling Calgary hospital. They also installed a heated trailer outside the emergency department as an overflow waiting area, postponing 12 surgeries scheduled to take place at Alberta Children's Hospital last week.
Article content
But further measures, such as broader pediatric surgical deferrals or staffing assistance from the Red Cross — a move announced by Ottawa's Children's Hospital over the weekend — are not expected, Health Minister Jason Copping said.
"Our system is under pressure, there's no doubt about it," Copping said at an unrelated news conference Monday.
"At this time, (temporary suspension of respite care) is the decision that AHS has made as the best way to really meet the immediate need."
Article content
Copping said his government's long-term goal is to build health system capacity by opening beds in hospitals and emergency departments.
He proposed a reduction in patient volume could be coming soon, citing declining school absenteeism rates as well as plateauing flu cases, although laboratory-confirmed flu cases remain at the highest level recorded in Alberta since 2009.
The children's hospital crisis comes as several respiratory viruses, including a particularly virulent strain of influenza, respiratory syncytial virus (RSV) and COVID-19, are widely circulating among youth.
That has led to severe strain at Alberta Children's Hospital, where daily visits to the emergency department have risen by 20 to 30 per cent, putting inpatient units beyond capacity and leading to wait times as long as 12 hours last month.
Article content
The pause on respite care at the neighboring Rotary Flames House will see all patients currently receiving care discharged by Tuesday, with that programming to resume when hospital pressure eases. Other services at the Rotary Flames House, such as grief and end-of-life care, are temporarily moving to the children's hospital.
Doctors facing respiratory virus 'immunity gap'
For Alberta pediatrician dr. For Sam Wong, the current pressure is unmatched in the 25 years he has worked in the health system, both in terms of the volume of patients and the intensity of illness.
"I've never seen anything like this and none of my colleagues have ever seen anything like this," said Wong, president of the Alberta Medical Association's pediatric division.
Article content
"We expect to see an annual rush of patients coming through because of RSV or influenza. But these numbers are unprecedented largely because we have two viruses circulating at the same time as COVID … Children need to be in a place where they can get oxygen, which is in the hospital."
There is always community circulation of respiratory viruses in the fall and winter, says Dr. Scott Hadland, a pediatric physician at Boston's Mass General Brigham Hospital.
But he said an "immunity gap," especially among children, is causing a worse season after two years during the COVID-19 pandemic when fewer people got sick with other viruses.
"Because we were physically distanced from each other for so long during COVID, some of the usual exposures we would have to these common viruses didn't happen, so we have less immunity as a population," Hadland told Postmedia.
Article content
Children dealing with multiple respiratory viruses at the same time is one factor driving children to hospitals, Hadland said, as is an ongoing shortage of children's fever and pain medication that limits parents' ability to treat illnesses at home. Stocks of that medication stabilized at Calgary pharmacies after a shipment from Health Canada of foreign-made stock last week.
Pediatric respite care pause in Calgary puts health system on 'knife's edge'

UCP's personalized learning regulation puts school staff on double duty

AHS may redeploy staff to strained Alberta Children's Hospital; trailer set up outside ER

Children's pain, fever medicine stock stabilizes at Calgary pharmacies
The current strain in acute care is frustrating because it was predictable, argued a vice-president of a union representing licensed practical nurses and health care assistants at Alberta Children's Hospital.
Article content
Bobby-Joe Borodey with AUPE said these members are stressed and dealing with burnout.
"The resources currently available in the health care system are not sufficient and we have pretty much only managed when things are good. And now that things are in a crisis situation, we find ourselves confused," Borodey said.
"While our members do their best to provide quality care while they are there, it is incredibly difficult."
Borodey said she was not aware of further government plans to redeploy workers to the Alberta Children's Hospital, but said members would be "more than happy" to be redeployed to help with the surge.
Wong said he was disappointed by the decision to suspend respite care. He said he believed the decision was made to affect the least number of people, with those staying at the Flames Rotary House who are chronically ill but stable, a sad indication of the gravity of the current situation.
Article content
"This is a valuable and much-needed service," Wong said.
Immunization important, say doctors
Government officials need stronger messaging about the importance of vaccinations to protect children from the flu this season, Wong argued. As of November 26, the last date for which data is available, 22.5 per cent of Albertans had received a flu shot.
"The recording has been awful so far," he said. "I think the government should be more proactive about this."
Hadland echoed the call for immunization, saying it's not too late for a flu shot to provide protection this season.
He said other basic measures could also help stop the spread of disease.
"It's all the stuff we learned during COVID that we know works. If we are sick, we must stay home. If our children are sick, they must stay home. We need to wear masks to protect ourselves and others," Hadland said.
The Calgary Catholic School District addressed some of those same questions in an email to parents Monday. The school district said they continue to see a high rate of illness in their classrooms, and encouraged mask use, hand washing and staying home while sick.
They also said it would cancel large in-person group gatherings such as Christmas concerts if more than 10 percent of students were absent with similar symptoms.
jherring@postmedia.com
Twitter: @jasonfherring