Provincial data shows that there have been 6,288 cases of flu recorded in the province this flu season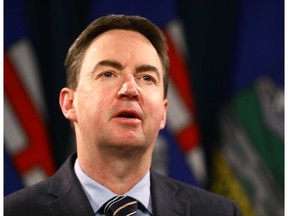 Article content
Alberta's health minister says the peak of flu in the province may be over, following the release of provincial data showing about 1,125 laboratory-confirmed cases were recorded in the past week.
Article content
Provincial data provided online this week shows that there have now been 6,288 cases of flu recorded in the province this flu season. In addition, hospitalizations rose to 1,124, from 818.
Article content
Health Minister Jason Copping said Friday that while there are flu-related challenges in the health care system, exacerbated by the spread of RSV and COVID-19, he said the peak of cases may be over. Weekly charts online show increases over the past two weeks have not been as sharp as in mid-November.
"It appears now that we have reached a peak in terms of this current bout of flu," Copping said at an unrelated news conference on Friday. "It can come back, in flu seasons you can have multiple spikes. It happens."
Article content
Copping pointed out that wastewater data showing the prevalence of influenza in the community appears to be on the decline. That data, found online, shows the rolling average of flu detected in Calgary's wastewater has dropped since Nov. 21. Data from Edmonton shows a recent jump, but current levels remain below the peaks seen last month.
While flu cases may be decreasing, RSV appears to be increasing. Data for this virus shows that it has been on the rise in Calgary since November 17, while there has been a sharp jump in Edmonton since November 28.
"It's something we're watching closely," says Copping, referring to RSV. "It's a combination of all three things that we see putting pressure on our health care system overall."
Article content
Charity Wallace, an Alberta Health spokeswoman, said the latest data shows the peak may be over, but that it's still too early to say for sure.
Parents struggle with sick children because the province bans mask mandates

'Case by case': Some surgeries are being postponed at Alberta Children's Hospital

'Back with a vengeance': Flu season gets off to a wild start in Alberta

Adolescence Hospice Facility Staff Relocated to Alberta Children's Hospital
The three viruses have caused a surge of patients at the Alberta Children's Hospital in northwest Calgary where a heated trailer is parked outside the emergency room for overflow capacity. Alberta Health Services also redeployed staff from a nearby pediatric hospice center to help with the high patient volumes. Some operations at the facility have been delayed on a case-by-case basis due to capacity concerns
Article content
The Stollery Children's Hospital in Edmonton has also seen an increase in patients.
"In the children's hospitals, both Calgary and Edmonton, a number of measures have been put in place, not only expanding capacity and then bringing in additional staff to manage more patients in those beds, also developing different processes in terms of ' n fast track — be able to . . . provide prompt treatment."
The Children's Hospital of Eastern Ontario in Ottawa also dealt with an increase in patients, with surgeries canceled and Red Cross staff deployed to help. Copping said he doesn't believe such measures will be needed in Alberta.
Earlier this week, the Alberta Medical Association's pediatric division called on the province to implement a number of measures to stop the spread of the viruses, including a temporary mask requirement in schools and improved messaging around vaccination safety and – effectiveness, as well as greater access to vaccines. They also called for the implementation of HEPA air filters in schools.
Article content
"These protections will help reduce the spread of multiple viral diseases, including RSV, influenza and COVID-19, which are increasing at alarming rates in our community and leading to increased school absenteeism as well as unprecedented wait times in emergency departments," said Dr. Kyle McKenzie, a pediatrician in Red Deer, said in a news release.
The AMA said pediatric hospitalizations across Canada are higher than typically seen during a flu season, and Alberta's rate is the highest in the country.
Wallace said Alberta Health and Alberta Health Services have launched several campaigns to inform Albertans about how to keep themselves healthy, including letters sent to parents, as well as text and social media campaigns.
"Our advice to Albertans remains the same – everyone, regardless of age, should get their annual flu shot. It's the best way to protect yourself from the flu," Wallace said.
dshort@postmedia.com