Article content
Calgary police have charged one man and are looking for three others after what they called a "reckless assault" at a northeast Calgary CTrain station last week.
Article content
Police said a group of four men were involved in a physical altercation in the upper level of the Marlborough CTrain station at around 2.15pm on November 17.
Article content
The violence escalated, investigators said, with suspects brandishing a pipe and a knife as citizens tried to leave the area. In security camera footage released by police, one man can be seen hitting another repeatedly with a pipe.
Soon after, one of the men returned to the upper level of the station with a flare gun and fired it twice, briefly setting one of the other suspect's jackets on fire.
With the help of Calgary Transit staff, police arrested a man suspected of firing the flare gun at the Franklin LRT station after exiting the Marlborough on a departing CTrain. They also confiscated the firearm.
Article content
They identified the suspect as Evan Robert Mossing, 37, of Calgary. Mossing faces seven firearms charges, including discharging a firearm with intent while reckless, possession of a weapon for a dangerous purpose and careless use of a firearm. He was released from custody after a bail hearing and will appear in court next December 13.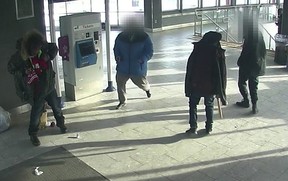 In a news release, Calgary Police Service Acting Staff Sgt. Shelby Stewart expressed concern about the public nature of the violence, which took place in broad daylight at a transit hub.
"This display of violence took place in a busy public area, was extremely reckless and will not be tolerated," Stewart said.
"Calgarians deserve to feel safe as they move around the city and we continue to work with our partners, including Calgary Transit, to address this type of ongoing violence."
Article content
Police have also appealed for the public's help in identifying the other three men who were allegedly involved in the assault, which was captured on closed-circuit cameras at the station. They issued the following descriptions of the suspects:
A five-foot-eight man in his 20s with a slim build, black hair, brown eyes and a pierced left ear, wearing a light green winter jacket, a black Toronto Raptors jersey, blue jeans, black and brown winter boots, ' a black baseball hat and sunglasses.
A six-foot man in his 20s with a slim build and brown or black hair, wearing a green camo jacket with fur around the hood, a white hoodie, a green reflective vest, dark pants and black shoes.
A five-foot-eight man in his 20s with a slim build, black hair and brown eyes, wearing a maroon jacket, a hoodie with a red Vans logo, a baseball hat, sunglasses, blue jeans and a wallet chain.
Investigators are asking those with information to call the police non-emergency line at 403-266-1234. Anonymous tips can also be submitted to Crime Stoppers at 1-800-222-8477 or calgarycrimestoppers.org.