Keanan Crane was reported missing after he was last seen in Whitehorn on April 11; his remains were found near Morley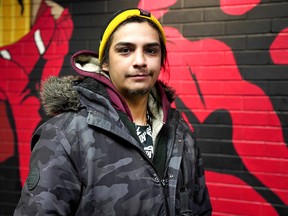 Article content
The family of a man killed outside Calgary is appealing for anyone with information about how he was killed to come forward as police continue their investigation.
Article content
Keanan Crane (22) was reported missing by his family on April 25 after he was last seen in the northeast Calgary community of Whitehorn on April 11 around 10:00 p.m. A month later, his remains were found near Morley, west of Calgary on May 15 by Cochrane RCMP.
Article content
Police believe Crane was killed in Calgary between April 11 and April 12, then his body was transported to Morley.
Braden Crane, Keanan's older brother, said his brother loved everyone close to him.
"I have this one good memory of him. He had this little dog, a little chihuahua, that was his dog and they were camping and they had no food, all they had left was salted peanuts. He would lick the salt off the peanuts just so he could feed them to his dog," Crane said. "It just showed me that he loved so much. He loved everyone, anyone, in his life who was close to him."
Article content
Crane said his family is devastated by his brother's death and asked anyone who may have information about what happened to him to come forward.
"Any kind of information, even if it's just small, would be greatly appreciated," Crane said. "We have been asking a lot for a long time and no one is coming back to us. I would really appreciate it if anyone could give us any kind of information that could lead to my brother's killer."
He said he didn't know why anyone would hurt his brother.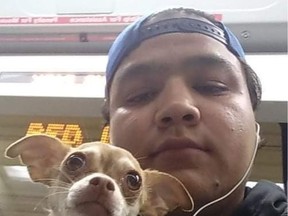 Acting Staff Sgt. Ken Carriere said CPS is asking anyone who may have seen Crane between April 10 and April 12 to contact them. He said that sometimes the small pieces can lead to a break in the case and that even if people think their information is minor, they should contact the police.
Article content
"We have worked tirelessly to bring Keanan's family and friends answers to any questions they may have. We are once again asking for the public's assistance to help us solve this case," Carriere said.
Crane said he was initially frustrated by the police response to his brother's death, but that he has since heard from them and understands their work on the case.
"I felt like they weren't doing their best, but they finally reached out to me and told me that they were doing their job all the time and that they might have an edge or two," Crane said.
Carriere said there are often times when they can't share information with families of victims while they investigate and that there are times when they don't have information to provide. He said police are trying to play the long game and that relationships tend to grow as investigations continue.
Anyone with information about Crane's death is asked to contact police at 403-266-1234. Anonymous tips can be submitted through Crime Stoppers.
dshort@postmedia.com