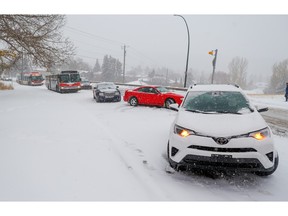 Article content
Environment Canada has issued a cold warning for the Calgary area as wind chill values ​​of -40 C are expected to persist throughout Monday morning.
Article content
According to the warning, extremely cold wind chills will continue throughout the week, especially overnight and during the early morning hours.
Article content
While a warming trend is expected by the weekend, Environment Canada said extreme cold could be a danger to everyone.
"Risks are greater for young children, older adults, people with chronic illnesses, people who work or exercise outdoors and those without proper shelter," the warning said.
Article content
Environment Canada is also urging people to watch for cold-related symptoms, including shortness of breath, chest pain, muscle pain and weakness and numbness and discoloration in fingers and toes.
As of Monday morning, extreme cold warnings extended across many regions in western Alberta, according to Environment Canada's website.
Extreme cold forced the closure of Zoolights on Sunday evening, with the zoo hoping to reopen the attraction on Monday, weather dependent.
Article content
WinSport Canada Olympic Park also issued a closure for skiers and snowboarders from Monday to Wednesday due to extreme cold and closed their tubing park on Sunday, after opening for the season on Saturday.
The return of freezing temperatures in and around Calgary has already caused a number of problems for drivers.
RCMP issued an advisory on Saturday urging drivers to avoid the stretch of road between Red Deer and Airdrie. An updated statement Sunday morning noted that snow plows and other snow removal equipment were working to keep the road clear, but travel was still not recommended unless absolutely necessary.
— With files from Olivia Condon