Although the measures announced by Prime Minister Smith will not reduce inflation, they could make life more affordable for many during the crisis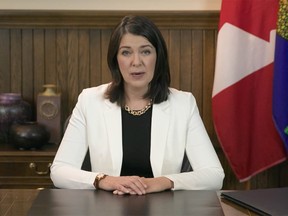 Article content
The Inflation Relief Act will not ease inflation but will make life more affordable for many during the crisis, a Calgary economist said Wednesday.
Article content
Premier Danielle Smith promised funds for middle- and lower-income families, and those supporting disabilities, in a televised address on Tuesday night. She also said the province will suspend the fuel tax in its entirety for six months and extend rebate programs for electricity and natural gas, while income tax will be indexed until 2022. The province also announced support for food banks and plans to expand low-income transit passes.
Article content
Trevor Tombe, a professor of economics and a fellow at the School of Public Policy at the University of Calgary, approved of the province's approach.
"The ideal way, in my mind, to approach this is with targeted cash transfers, not policies that try to manipulate markets or prices, but just to help people bridge through this to ensure that their income is sufficient to cover the additional expenses cover," he said.
Article content
Smith's announcement included $600 per child over six months for families earning less than $180,000, as well as for those on AISH, Income Support and PDD. There will also be a re-indexing of AISH, PDD, seniors benefits, Alberta child and family support benefit and income support program starting in January.
Smith promises $2.4 billion in inflation relief in TV address to province

Alberta commits $20 million to food banks, agencies struggling with inflation

'Perfect storm' swirls as Canadians face hot inflation, rising rates

Trudeau announces billions in cost-of-living relief, says won't fuel inflation
The province is also extending electricity rebates of $200 per home between January and April, and will continue the natural gas rebate program.
Article content
The provincial fuel tax is also completely removed for six months. After two quarters of no provincial tax at the pump, 4.5 cents per gallon was reinstated in October as West Texas Intermediate prices fell below $90 a barrel.
People without children or who are not on other benefits will not be included in the $600 payout.
Meaghon Reid, the executive director of Vibrant Communities Calgary, said those without children represent a growing segment of the community. She said many Albertans living below the poverty line and struggling with the rising cost of living need a boost to their bottom line, even a temporary one.
"Poverty for singles is really on the rise, and it's often said it's because they don't have the same support to draw on that people with families who are in poverty often have," she said.
Tombe tweeted Tuesday night that families were more affected by inflation, saying those with children had higher costs of about $60 a month than those without.
Article content
However, he also noted that those who receive no targeted support are generally in the worst position to withstand a rise in the cost of living.
Reid added the re-indexing of supports will help many vulnerable Albertans. The UCP government under former Prime Minister Jason Kenney de-indexed this support in 2019.
The province will further help those most in need with food bank support and possibly a low-income transit pass. The province on Wednesday committed $20 million over two years to support food banks and civic organizations across the province.
However, plans for the transit pass were more vague. Calgary Mayor Jyoti Gondek said she was waiting to see details.
"I don't know how quickly the prime minister will be able to tell us what she's willing to do or what her government is willing to do on low-income transit passes," she said. "So there is still a huge burden of responsibility on this council to act. I can tell you that I and many of my colleagues are at least very interested in freezing rates."
Article content
While Smith didn't announce anything specifically targeting businesses affected by inflation, Annie Dormuth, Alberta provincial director for the Canadian Federation of Independent Business, said there were some big wins for business in the announcement.
According to the group's October survey of Alberta businesses, the cost of utilities was the No. 1 concern, followed by the cost of fuel.
"What we saw in the announcement was a commitment to, I think, address a lot of this," she said.
Alberta Central Chief Economist Charles St-Arnaud said not to overlook the importance of indexing provincial income taxes beyond 2022. While many people will focus on checks in the mailbox, he said it will have a positive effect on many people.
"For those people who are suddenly changing tax brackets — 'I got a raise, but I just don't see it' — it's probably more frustrating," he said. "You think you're getting better, but you're not."
The province has been tight-lipped about many details about implementation, but a spokesperson for the premier's office said in an email that the program will roll out at the beginning of January. The government will approve legislation in December and more information will be available at that time.
— With files from Brodie Thomas
jaldrich@postmedia.com
Twitter: @JoshAldrich03