Hinshaw left quietly, releasing only a statement saying it was her greatest pleasure to serve as chief medical officer of health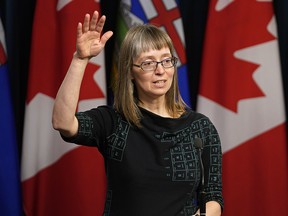 Article content
From thousands of Albertans hanging on her every word to some of those same people calling for her to be fired, Dr. Deena Hinshaw's roller coaster ride as a public figure and the province's top public health official has come and gone during the COVID-19 pandemic.
Article content
Premier Danielle Smith announced this week that Hinshaw has been replaced as the province's chief medical officer of health by Dr. Mark Joffe, a longtime CEO of Alberta Health Services. The move fulfilled a promise Smith had made to replace Hinshaw with a group of advisers.
Article content
Hinshaw left quietly, releasing only a statement saying that it was her greatest pleasure to serve in the role.
"While I am no longer in that role, my priority has been and continues to be to support the health of all Albertans. I encourage all of us to continue to care about the health of our communities and look out for each other," she said.
She is no longer with the provincial government. Her contract was set to expire in 2024.
Hinshaw was first appointed CMOH on January 28, 2019, but will certainly be remembered for the time she spent advising provincial politicians and Albertans on how to navigate a pandemic that changed course on several occasions. and at times brought life to a standstill as most people knew it.
Article content
Her initial appointment, which was announced by a news release from the then NDP government, did not generate much news. Over the next 12 months, Hinshaw commented on topics ranging from the overdose crisis to syphilis outbreaks. In total, her name appeared five times in the Calgary Herald.
Braid: Hinshaw is out, Smith names mainstream AHS doc as CMOH

Nelson: More than cash, Hinshaw deserves our thanks

Staples: Dr. Hinshaw is mostly right about COVID, but one major failure stands out
Then COVID hit, and in the next 12 months, Hinshaw was named in the Herald nearly 500 times as she became the public face of the province's response to the pandemic.
"I think probably a lot of people didn't even know that we had a chief medical officer of health at the beginning," said Lorian Hardcastle, an associate professor at the University of Calgary.
Article content
"I think people often have a lot of faith in the medical profession and so were happy to have a trusted voice explaining facts about COVID when they came out."
Since the start of the pandemic in early 2020, Hinshaw has appeared almost every weekday afternoon with a variety of health officials and politicians to provide the latest updates.
And with it, her public status grew. Albertans created T-shirts comparing her to a superhero – some asking 'What would Dr. Hinshaw do?' — and when she wore a dress emblazoned with the periodic table to one of her briefings, demand for the outfit skyrocketed.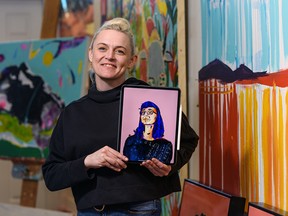 As the pandemic continued and people grew weary of public health measures and politicization of the pandemic, chief medical officers everywhere became a lightning rod for criticism. The far right demanded that Hinshaw be fired or jailed for defying the wishes of elected officials and enforcing her own restrictions.
Article content
As Hinshaw's profile grew, so did unrest within the UCP government, which was opposed by outside forces to measures introduced by the province.
Dr. James Talbot, a former Alberta CMOH, said he had known Hinshaw for many years and that she was always motivated by the right reasons. He said she got the timing right by bringing in restrictions during the first wave, but in subsequent waves it became clear there was political will to move away from what the science recommended.
The government often took credit for the public health response when people agreed with decisions, and used Hinshaw to justify unpopular choices.
"There was a disconnect between what the science said the chief MOH probably recommended and what the government was doing, and in the second and third wave we ended up suffering more because of that," Talbot said.
Article content
Then came Alberta's "best summer ever," when then-Premier Jason Kenney announced that almost all public health measures would be lifted by Canada Day 2021.
Hinshaw did not attend the high-profile news conference announcing the lifting of restrictions, but government officials said she endorsed the plan. She later told a group of doctors that she feels she bears some responsibility for the narrative that COVID-19 is over.
"It's a place where I think a lot of Albertans have lost faith," said Talbot. "Because they knew what they had given up to bring it under control, they knew what they had to do to bring it back under control, they knew people were still dying but the government told them to just ignore it ."
Article content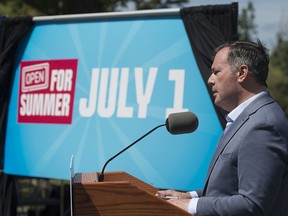 In the fall of 2021, COVID-19 patients began filling intensive care units across Alberta, forcing the government to roll back restrictions, including a vaccine mandate to enter non-essential indoor spaces. By March 2022, 53 percent of respondents to an Angus Reid survey said Hinshaw was doing either a bad or a very bad job of managing the pandemic.
Later in the pandemic, Hinshaw came under more criticism when it was revealed that she had received a six-figure bonus for her work. She recently came under fire when a judge ruled the province's removal of a mask mandate was unreasonable because the decision was made by the cabinet and not Hinshaw.
Hardcastle agreed that the open-for-summer plan was a turning point. The law and health professor said that many people felt that the decision was too politicized and that throughout the pandemic there had been a lot of confusion about who was making the decisions.
Article content
She said she believes people will remember Hinshaw's time as CMOH as being in a position to do more, as legislation shows that during a public health emergency, the CMOH has the authority to be a decision maker.
"I think that argument is out there. At what point can you not in good conscience endorse what the government is doing? Because in many cases, even if it wasn't her decisions, of course she stood there on the podium," said Hardcastle.
Talbot took a different view, saying public health officials are being judged harshly as people look back on pandemic-time decisions. He said CMOHs are in a difficult position – if they try to outbid elected officials, they will most likely be out of a job. Talbot argued Hinshaw was one of a group of public health doctors who navigated a once-in-a-century crisis admirably, balancing health care with political pressure.
Article content
He said the provincial death toll would have been much worse if not for Hinshaw's decisions.
"The economy as a whole is recovering, and the only thing that isn't is that 5,000 grandparents, parents, people who had some illness or people who were lower in terms of being more affected by poverty, those 5,000 people didn't come back," Talbot said.
"As communities we should celebrate how well we have come together to protect those who are less fortunate. . . but instead we are in this bizarre discussion about how the chief MOH failed because she should have let another 10,000 Albertans die. I don't understand it."
Both Hardcastle and Talbot agreed that there needed to be a change to the role of the CMOH to allow more independence from political influence.
The future of the role, they say, is in a tough spot now that Hinshaw has been replaced.
Health Minister Jason Copping thanked Hinshaw for her service in a statement announcing her replacement as CMOH earlier this week. His office declined to comment further on Wednesday.
dshort@postmedia.com