The patient crisis at Alberta Children's Hospital comes as several respiratory viruses circulate widely among city youth — including influenza, RSV and COVID-19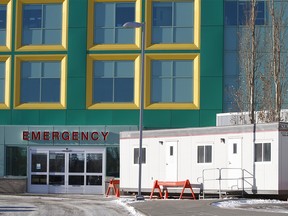 Article content
Community pediatricians are filling shifts and emergency department doctors are working extra hours to handle an ongoing increase in patient volumes overwhelming the Alberta Children's Hospital.
Article content
Alberta Health Services said Wednesday that Calgary hospital emergency room visits and admissions remain high as an unprecedented wave of respiratory illnesses continues to sweep through the community. That demand has remained at above-average levels for more than a month.
Article content
Six community pediatricians work shifts to cover a new six-bed short-stay unit AHS added to the children's hospital for patients who require shorter courses of treatment and hospitalization.
As well, 14 pediatric emergency department physicians are working "over and above" their scheduled shifts to fill in coverage, AHS said.
"We appreciate all the support from both AHS and community physicians and residents," the health authority said in a statement.
Article content
Children's hospitals are seeing an influx of patients
The patient crisis at the children's hospital comes as several respiratory viruses circulate widely among city youth. These include a particularly virulent strain of influenza, respiratory syncytial virus (RSV) and some COVID-19.
Inpatient capacity at the hospital currently exceeds 100 percent, while the pediatric intensive care unit is just under 100 percent full, numbers similar to last month.
Daily visits to the emergency department were about 20 to 30 percent higher than before the surge, and the hospital recorded wait times as long as 12 hours during that time. Hospitals elsewhere in Alberta and Canada, including Edmonton's Stollery and Toronto's Hospital for Sick Children, are facing similar pressures.
Article content
AHS postpones surgeries at Alberta Children's Hospital on a case-by-case basis; last week seven operations were delayed, and four were moved this week.
Copping visits children's hospitals
Alberta Health Minister Jason Copping said he visited the Alberta Children's Hospital over the weekend and the Stollery on Wednesday night.
"They are very busy and the system is under pressure," Copping told reporters at an unrelated news conference Thursday.
"We are seeing the pressure on the children's hospital that we have not seen for some time. Some people have told me the amount of pressure that's on the system is the highest they've ever seen it, and that tells us that we need to have more tools, more surge capacity."
Article content
AHS is opening a heated trailer that was placed outside the Alberta Children's Hospital emergency department last month to serve as an overflow waiting area. The health authority said it expected the space to be used for visits during peak times, usually between 5pm and 3am
Other measures to combat death from disease include interrupting respite care at a neighboring pediatric hospice facility and discharging patients to redeploy staff to the children's hospital. Copping previously said further emergency measures – such as calling in Red Cross help or widespread surgical cancellations – were not expected to be necessary.
Copping said rates of flu infection are falling, but RSV disease is still on the rise. He said there will likely be another wave of flu this season, echoing predictions from virologists.
Article content
Red Cross help, greater surgical delay not expected at Alberta Children's Hospital: Copping

Pediatric respite care pause in Calgary puts health system on 'knife's edge'

Flu season has likely peaked in Alberta, health minister says

AHS may redeploy staff to strained Alberta Children's Hospital; trailer set up outside ER

Alberta Children's Hospital, hit by rising respiratory illnesses, wants to expand ER capacity
He said the province is looking ahead to that likely surge and building capacity in hopes of avoiding similar system stresses.
"We recognize our hospital system, especially our children's hospital system, is under pressure, and continue to work together not only to say how do we add capacity in the short term, but also frankly how to add capacity in the long term," Copping said. He said this includes adding staff capacity as well as making the flow of emergency departments more efficient.
Article content
Provincial data on flu infections released Thursday afternoon showed 821 new laboratory-confirmed cases in the week ending Dec. 10 — a 27 percent week-over-week decrease. This continues a trend of declining transmission in the community, although this year's flu season remains the most severe since 2009 in Alberta.
However, flu hospitalizations continue to rise, with 1,413 people in hospital with the virus, 140 of whom are in intensive care units. Twenty-one new flu deaths bring Alberta's toll to 45 this season, a number that includes two children under the age of 10.
Call for measures to stop viral spread
The Alberta Medical Association's pediatrics section called on the provincial government to implement some measures to stop the spread of the virus, including a temporary mask mandate for schools and improved vaccine messaging. Copping encouraged Albertans to get their flu shots, including Thursday.
AMA President Dr. On Thursday, Fredrykka Rinaldi said there was evidence for measures to reduce spread, but questioned whether the public would be receptive to public health restrictions after the COVID-19 pandemic.
"The government will make its own decision how it goes forward. I think in some areas it has done better than other areas," Rinaldi said.
"It becomes very difficult to start mandating things without having consequences. It is better to educate positively. . . and asking people to simply do the right, common sense thing."
jherring@postmedia.com
Twitter: @jasonfherring