The bundle contains information about a white supremacist group known for organizing 'White Lives Matter' rallies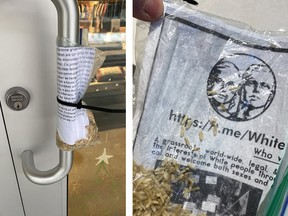 Article content
A Calgary business owner says she was upset when she found a package of hateful and racist material taped to the door of her Inglewood storefront Tuesday morning.
Article content
Sarah Elder-Chamanara says she arrived to open Madame Premier – a clothing store that advocates for the increased participation of women and marginalized groups in politics – and found what she described as a "disgusting" white supremacy handout that was presented to the store's front door is attached.
Article content
"(It has) a lot of similar myths and disinformation about it," she said. "A lot of, frankly, really racist and harmful white supremacist, neo-Nazi literature."
Article content
The bundle included a multi-page fact sheet featuring a white supremacist social media group — which Postmedia decided not to name — known for organizing "White Lives Matter" rallies across North America.
Also in the package was a copy of the infamous third-place winning essay from the UCP's "Her Vision Inspires" contest, which refers to a white nationalist theory that white populations with low birth rates are being replaced by mass migration by non-white immigrants .
While the material alone is disturbing, Elder-Chamanara said it also struck a personal chord with her — her husband is an immigrant and they have two biracial children together.
"How do you one day have these conversations with your children, around people who believe they are somehow less than?" She said. "It's really hard to express without having a complete breakdown."
Article content
Elder-Chamanara said she was unsure if the act specifically targeted her business. Still, she says it's troubling that it happened in Calgary.
Ban on teaching anti-racism, diversity included in Alberta UCP policy decisions

Study of hate crimes in Alberta could be 'life breath' for anti-racism work: researcher

Police are trying to identify suspects in CTrain hate crime
"I think we all want to say that it doesn't represent and it's not Calgary, but it actually is," she said.
"I think that we all have to collectively wake up to (the fact) that this is something real and it's something we have to deal with."
Since posting a thread about the package on Twitter, Elder-Chamanara said she has heard from other Calgarians who have received similar packages. She said she reported the incident to the police and spoke to members of the hate crimes unit.
Article content
Calgary police told Postmedia they are aware of and investigating the incident — along with similar recent incidents — and they "recognize the negative impact this type of material can have on community members." They encouraged anyone with information about this case or others to contact the non-emergency line at 403-266-1234.
"I think the police are really hesitant now to make it a big deal because they don't want this person to feel like they're winning," Elder-Chamanara said.
Article content
Stickers, banners and other material supporting white supremacist rhetoric have also been spotted around the city in the past year, including symbolism regularly seen at weekly anti-vaccine rallies.
Data provided by the police in September showed that the number of files reviewed annually for possible hate or prejudice motivation more than doubled between 2019 and 2021, to 385 from 160, and numbers so far this year were flat foot by 2021.
mrodriguez@postmedia.com
Twitter: @michaelrdrguez