Christmas tree suppliers say demand is still strong despite rising prices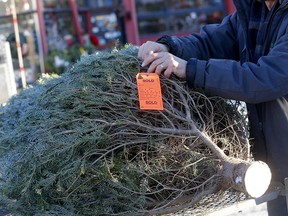 Article content
While a vibrant Christmas tree, alight with tiny baubles and cradling presents at its trunk, may be the hallmark of a good, old-fashioned Christmas time, it will carry a higher price tag this year as supply chain disruption and rising inflation continue to impact on the economy.
Article content
But it's all worth the experience according to Calgary Christmas tree suppliers who say demand remains strong despite rising prices.
Article content
"Demand for live Christmas trees is high every year, but this year we found it to be exponentially higher," said Melissa Hemminger at Blue Grass Nursery. "In the last two years with the pandemic, I think a lot of people are trying to celebrate old traditions and the living trees are a perfect symbol of that."
Hemminger said their offering was similar to last year's, starting with about 500 trees at their location along Highway 2 near Cross Iron Mills Shopping Center. Since opening their yard over the weekend, Blue Grass has sold over 200 trees. But with supply chain issues they had to go through two different suppliers to even get those trees and the prices reflect that.
Article content
"Since last year the prices have almost doubled," she said. "Our cheapest tree is $99 for the basic standard tree compared to last year when you could get it for maybe $50 to $70. So, yes, we are definitely seeing the prices skyrocket this year."
Higher prices are needed to keep pace with rising costs associated with growing and transporting trees across the country, said Shirley Brennan, executive director of the Canadian Christmas Tree Association.
The increase averages about 10 percent across the board, which Brennan says "balances out."
"What drives up the price is transport. Even the fuel to run our equipment on our farms… Insurance in some areas has skyrocketed. We also know that across Canada, fertilizer has gone up 25 percent in one year and that's why we're seeing the prices go up," she said.
Article content
Spruce Meadows Christmas Market is the fourth place to visit worldwide

Tom Jackson is in the Christmas spirit with a new cross-Canada charity tour
Bruce Wilkins, with wholesaler Mountain View Christmas Trees, said they get most of their trees from BC and Quebec to stock their lots at Spruce Meadows Christmas Market, Crossroads Market and the Okotoks Staples. He said an explosion in the live tree market three years ago continues today.
"After we reached that tipping point, where the demand seemed to go out the window, almost to the point of almost ridiculousness, we could get at best what we had, despite asking everything in anything what they could send us," he said. "And as a buyer of many, many thousands of trees, we don't even have the power to really negotiate that."
Article content
Wilkins said he hopes to see the price of trees stabilize over the next few years, along with the cost of doing business.
"Costs have risen massively. It's like with cargo, fuel, food, everything is to an extent where you almost don't have words for it," he said. "We maintain fixed margins on our costs to try and keep up with inflation almost and we even pull it down somewhat, especially on the retail side, and despite that the increase in costs is still scary to me every year."
Despite losing an entire truckload of trees to damage this year, hopefully their inventory will still be able to meet demand, Wilkins said.
Losing trees in transit isn't a unique problem, according to Nicole Screpnek with Landscape Plus who said they've also lost the majority of a shipment because it was shipped late.
Article content
"We're trying to order within the same amount as last year, maybe 10 to 15 percent more. But we definitely don't get everything we order because of the shortage," she said. "The loss of trees makes that deficit just that much bigger for our sales."
Lanscape Plus saw a marked increase in sales in 2020 and was on track to see even more in 2021 if not for supply chain issues, which caused them to close earlier in the season than they ever have in more than two decades of did business.
This year, Screpnek said they are hopeful that the roughly 1,200 trees they have will be enough to meet the needs of Calgarians hoping to celebrate Christmas with a live tree.
ocondon@postmedia.com