Three people face multiple charges including aggravated assault and unlawful detention in connection with the incidents in April 2019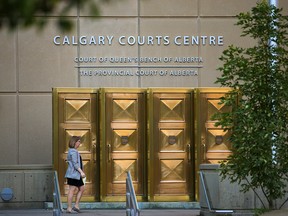 Article content
The testimony of a Calgary man who says he was repeatedly beaten, tied up, robbed and sexually assaulted after being lured to a northeast home under the promise of sex for drugs should be thrown out, lawyers for three defendants said Thursday .
Article content
Defense counsel for Richard Wayne Parsons, Carol Nordvall and Christina Schollen said there were too many inconsistencies in the complainant's testimony for Judge Charlene Anderson to find him credible or reliable.
Article content
"This case boils down to the credibility and trustworthiness of (the witness)," barrister Shelley Moore, acting for Parsons, told the Court of King's Bench judge.
Moore said while certain events took place in the home on Thomson Avenue NE where the complainant said he was lured, exactly what happened remains unclear.
"What is in dispute … is what exactly took place and who is responsible for what."
All three face multiple charges, including aggravated assault and unlawful detention, in connection with incidents on April 15 and 16, 2019, when the complainant said he was repeatedly brutally assaulted.
Article content
Parsons and Nordvall also face charges of robbery and sexual assault with a weapon, charges dropped against Schollen at the end of the Crown's case on Wednesday.
Prosecutor William Tran said much of what the complainant, who cannot be identified under a publication ban, is corroborated by other evidence collected by members of the Calgary Police Service.
Tran said that although Schollen was not present for the sexual assault of the victim and did not participate in ordering him to transfer a total of $12,000 into the pockets of his assailants, she was still a party to his assault and childbirth
Crown closes case in trial of trio accused of torturing Calgary man

Thieves tortured man before draining his bank account, court heard
He told Anderson she was clearly the lure that led him into the trap set by others who were angry with the complainant for an earlier sexual encounter with Nordvall where he had not compensated her properly.
Article content
"Mrs. Schollen is the bait on the hook, there is no evidence to the contrary," said Tran.
"Essentially Ms. Schollen the hook, line and sinker… she is part of the serious assault, the blackmail and the threats."
Nordvall's lawyer, Kelsey Sitar, said the evidence was not clear that her client was present at the critical times when the Crown's witness said he was repeatedly beaten, with a fish bottle and a wrench, as well as being repeatedly hit with punched and kicked in the face. , nor when he was sexually violated.
But Tran pointed to a video found on Schollen's phone that shows the sexual abuse taking place as a man asks "do you recognize her?" a clear reference to Nordvall and the previous sexual encounter, he said.
Anderson will rule on Monday.
KMartin@postmedia.com
On Twitter: @KMartinCourts