Anthony Olienick, Chris Carbert, Christopher Lysak and Jerry Morin are each charged with conspiracy to kill RCMP officers during their involvement in the blockade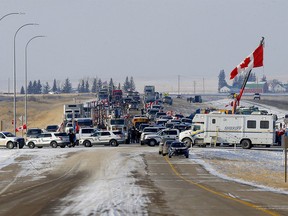 Article content
Protesters involved in the Coutts border blockade discussed "changing Canada's political, justice and medical systems," says information uncovered during an RCMP investigation.
Article content
In an information to obtain (ITO) affidavit in support of an application for a warrant to seize telephone records of four named accused, Const. Trevor Checkley detailed where the Mounties' investigation was on May 4.
Article content
The search warrant requests were directed at Anthony Olienick, Chris Carbert, Christopher Lysak and Jerry Morin, who are each charged with conspiring to kill RCMP officers during their involvement in the blockade.
All four were arrested in February.
In the ITO, a redacted version of which was released Wednesday by Lethbridge Provincial Court Judge Kristin Ailsby, Checkley outlined police concerns about the protest.
"Carbert received a text message from (a redacted name) and was told to share a message with non-mainstream media and on social media," Checkley wrote.
Article content
"The message and a related follow-up text from (redacted name) said the protest is not just about ending vaccine and public health mandates, but changing Canada's political, justice and medical systems, including eliminating a group of people referred to as the professional political class," he said.
"(Redacted name) also shared the above message from (redacted name) in a group text chat with Carbert, Lysak and Olienick."
Checkley noted that undercover officers who had infiltrated the protest were present when Olienick and Carbert met with Morin about the delivery of a heavy package believed to be guns.
"When (an undercover officer) later asked Olienick if everything had been delivered, referring to the delivery of firearms, Olienick said not everything had made it," Checkley wrote.
Article content
"Olienick told the UCOs that if the RCMP came in with force, they would be met with more force and that the RCMP were the enemy. Olienick also said he was willing to die for the cause."
During a February 14 raid on three trailers in Coutts, Mounties uncovered several firearms, ammunition and tactical vests.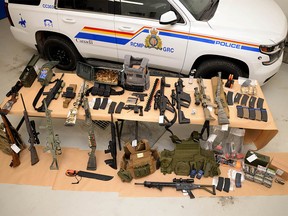 In a subsequent search of Olienick's rural home in southern Alberta, police "found firearms, more than 36,000 rounds of ammunition, tactical equipment and two pipe bombs."
"Olienick described Lysak as an assassin, sniper and gunfighter," Checkley said.
"The police seized a handgun registered to Lysak from the trailer where Lysak was staying in Coutts. . . and a rifle with a scope and a rangefinder from Lysak's truck parked near the Coutts blockade site."
Article content
The officer said he believed Olienick, Carbert and Lysak, who were arrested along with others in the border community, "went to Coutts with the support of (redacted names) to effect political change as they believed the Coutts blockade would lead to conflict and was preparing for armed conflict with the police.
"For the reasons set forth above, I have reasonable grounds to believe that Olienick, Carbert, Lysak and Jerry Morin had weapons near the Coutts Blockade protest site with the intention of using those weapons against the police."
Coutts mayor says village besieged by 'domestic terrorists' during border blockade: Emergency law probe

Coutts border blockade grew organically into open communication with Alberta, Fort Macleod councilor testifies

Police feared they were targets of gunfire at Coutts border blockade, court documents show
Checkley also reviewed the police interviews of the four defendants after their arrests.
Article content
"Olienick believed the government wanted to destroy the middle class and the economy was going to collapse," he wrote.
He also expected that a totalitarian communist regime would be installed in Canada "and there would be executions and gas chambers."
"Carbert said he was trying to prevent a war and that people could only be pushed so far," Checkley said.
"The whole point was to get (Prime Minister Justin) Trudeau and (then-Prime Minister Jason) Kenney to step down."
Lysak questioned the validity of COVID-19 vaccines, the officer wrote.
"Lysack . . . said that it is 900 times more deadly for children to be vaccinated than to get (COVID)."
And Morin expressed disdain for the government, Checkley said.
"Morin said it was World War III and that stripping freedoms and enslaving everyone was warfare," he said.
All four, who remain in custody, will stand trial next June.
KMartin@postmedia.com
Twitter: @KMartinCourts