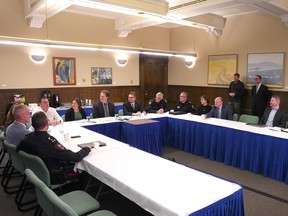 Article content
Shovel. Sonya Sharp said her first meeting with the Calgary Public Safety and Community Response Task Force was productive, and the group remains focused on action.
Article content
The provincially managed task force was announced on Friday morning, and after a press conference the members met for the first time at the McDougall Center to discuss their mandate and future plans.
Article content
"I think you could say the mandate to this task force is about the implementation work, more than starting from scratch," Sharp said.
"There's been a lot of research and a lot of work done on the scenes and not only that, it's also the work that the city of Calgary has done in the last few months, so we make sure that we also get any information from, for example, the transit patrols or what we did for mental health and addiction in this last budget."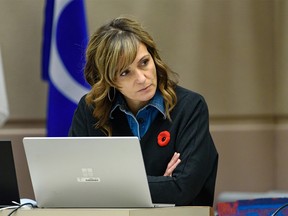 Sharp said the task force next meets in January, and it has an "aggressive" timeline to begin implementing programs in the late winter or early spring of next year.
Article content
The councilor said she was happy to see that it was about carrying out what needed to be done.
Sharp also said the council would be kept informed of the task force's work.
"I'm not sure if there will be some kind of formal reporting from ourselves to the rest of the group. But we will definitely make sure they are kept informed of any progress," she said.
While Sharp sits at the table with Coun. Andre Chabot, another city council member, had some questions about the task force.
Shovel. Kourtney Penner said she was going to reserve judgment for now, but she did express concern about the right people at the table. She made the comments in a video posted on social media.
She said she found it interesting that gr. Chabot was chosen to sit on the task force, as he often says health and social spending is not part of the city's mandate.
Article content
"I would hope that Count. Chabot will take all of our funding that we've put into mental health and addictions and housing and show it to the provincial government and say, 'Where are you in this?'" Penner said.
She was also concerned that the task force might group together problems that are not necessarily related. She said people experiencing homelessness are not always addicted to drugs, and many people dealing with addiction have a safe place to live.
"So there's homelessness, there's mental health and there's addictions, and I think it's really important to individualize those three things and talk about each of them in their own way," she said. "Understand where they intersect, but also importantly, don't lump them together."
Article content
Penner raised the issue of the toxic drug supply on the street and said the province would not allow diabetics to suffer if the insulin supply was contaminated. The UCP government has repeatedly rejected the idea of ​​safe provision for addicts, preferring instead to focus on a recovery-oriented care system.
"I think if it really is a health issue, then we should treat it like we treat any other health issue — like we treat diabetes, like we treat people who have heart health issues, like we treat people who have torn ACLs," she said.
Penner said people can't be forced into treatment centers and there needs to be an understanding of what kind of care will follow.
Shovel. Terry Wong, whose ward includes much of the city centre, said he was very aware that many of the problems were concentrated in the city centre. He hopes the task force can bring about change.
Article content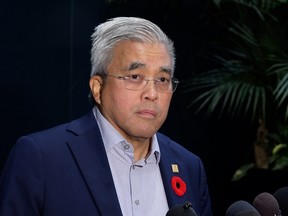 "I think one of the things that is new and novel is the idea of ​​a joint Calgary police and health care centre," he said. "By which the police who have to pick up someone who is apparently causing a disturbance, rather than taking them into the arrest processing center, can be brought to a combined CPS health unit to be treated for both physical and mental health issues before they are treated. as a criminal."
Postmedia reached out to several of the frontline agencies dealing with social problems in the city's inner city. Most were not ready to comment on the new task force.
Sandra Clarkson, executive director of the Walk-in Centre, said in a statement that she was pleased to see the province's collaborative approach on this task force.
"We look forward to connecting with its members by providing our front-line experience in addressing these mental health and addiction challenges in our city," Clarkson said.
"Along with the engagement with this new task force, we will continue to work with our community partners to support Calgary's most vulnerable as we work towards our goal of ending chronic homelessness in Calgary."
— With files from Dylan Short
brthomas@postmedia.com
Twitter: @brodie_thomas