During two days of public hearings at City Hall, citizens voiced their concerns about inflation and the rising cost of living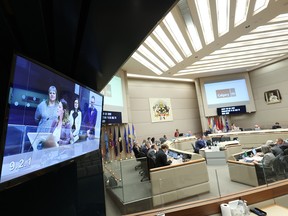 Article content
Shovel. Sonya Sharp says she is exploring the possibility of dipping into the city's reserves to offset the expected property tax increase in this year's city budget.
Article content
The city said the average homeowner can expect to see about a $10 a month increase on their tax bill. City administration was instructed to keep spending increases below population growth and inflation.
Article content
During two days of public hearings, very few citizens came forward with specific concerns about that increase, but the larger issue of inflation and cost of living came up repeatedly.
Sharp said she has heard from residents in her ward who are concerned about an increase on their tax bills, and she hopes to address those concerns.
"It's no secret that I keep asking about reserves and what we can do with some of our reserves," Sharp said.
She said each fiscal reserve has terms of reference and limitations on what it can be used for.
Article content
"One of the speakers this morning talked a little bit about the amount of money coming out of the planning and development reserve," Sharp said. "I ask questions like, 'So what else can we do with $97 million that's there?' And these are the questions that I have to understand and they are very sharp, but I am looking for transparency, because I also have to answer to my constituents and other members of the city who ask these questions."
According to the city's 2021 annual financial report, Calgary's total fiscal reserves stood at $3.281 billion at the end of the year, including $732 million in the city's now combined fiscal stability reserve and budget savings account.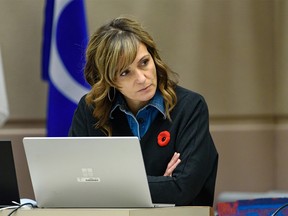 Sharp said if those reserves can be used to lower the tax burden and the affordability burden for Calgarians, she wants to know about it.
Article content
She also said she had trouble drilling down for details in the budget document as presented.
"You know, it's not like a menu where you understand what you're getting when you order," Sharp said. "So we have to be able to explain that to the average Calgarian and I find it a little difficult to nail down those answers."
Calgary homeowners could see 5.2 per cent increase on 2023 municipal tax bill

Calgary police, fire seek funding in quadrennial budget
Mayor Jyoti Gondek said during the public hearings that the council has heard that people face affordability challenges in a jumbled number of ways, including fees and cost of living.
"It's incredibly important for us to look largely at affordability and make sure that we make decisions that recognize the kind of hardship many of our neighbors are in," said Gondek.
The Council was scheduled to conclude its public hearings Wednesday afternoon after hearing from more than 100 citizens.
Councilors will present proposals for amendments, with the goal of passing a final four-year budget before the end of the week.
brthomas@postmedia.com
Twitter: @brodie_thomas