The city is looking to higher levels of government to get the long-awaited sports complex project over the line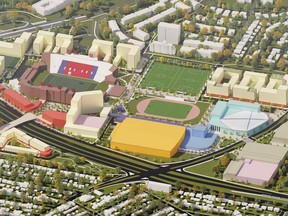 Article content
A Calgary city councilor hopes a funding commitment to a long-awaited multi-sport field house will open the door to hundreds of millions in funding from the provincial and federal governments.
Article content
During budget deliberations last week, the council approved a $20 million commitment to the Foothills Fieldhouse, a large complex planned to be built next to McMahon Stadium at the current Foothills Athletic Park. The field house will have several courts, athletics areas and a 400-meter track, filling current gaps in the city's supply of indoor sports facilities.
Article content
The city's web page for the project puts the cost at more than $285 million over five years. Shovel. Jasmine Mian said the city will leverage its funding commitment in hopes of getting most of those costs covered by the provincial and federal governments.
"We're at a critical juncture I think right now with the field house project in that the city has committed to doing it," the Ward 3 councilman and former Olympic wrestler told Postmedia on Sunday. "Now we've set aside the money, and we're going to our provincial and federal partners and asking them to come to the table with us to get this project over the line."
Article content
The city has sent letters outlining the funding request to provincial and federal officials, but if higher levels of government don't step in, Mian said the city needs to find a way to cover the entire cost itself. "We have to build it for people," she said, adding she believes the project is about 40 years overdue.
"We're one of the only major cities in Canada that doesn't have a field house," she said. "Anyone who has played competitive sports, anyone who is a parent who has a child who plays competitive sports, has probably had to go to Edmonton at some point to compete in their field house."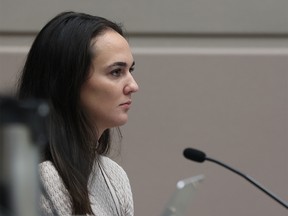 The Foothills Fieldhouse is one of the city's "big four" priority capital projects, the others being the event center that will eventually replace the Saddledome, the BMO Center expansion and the Arts Commons transformation. Mian praised the field house as the only one that is a "true quality of life project for everyday Calgarians," with the others likely rarely used by most residents.
Article content
"I think a field house is something that is so important for people's health. It's a form of crime prevention for youth, it's a form of healthy living for so many people and it's really much needed," she said.
Mian said a world-class field house would give athletes of all ages more sports options in Calgary, helping move the city away from its winter sports focus to allow more opportunities in summer sports and help draw major events that also serve as a boost can serve to tourism.
"The fact that that facility is being considered to have a 400-metre track will allow Calgary to become a great center for track and field — even better than it is," she said. "I think this is such a great city-shaping project that will help so many people, and I'm really hopeful that with the help of our other levels of government, we can get it funded."
Article content
Calgary City Council approves four-year budget with 4.4 per cent tax increase

Conceptual drawings show reimagined district around McMahon Stadium, new field house

Committee endorses $19 million in 'seed funding' for a multi-sport field house
Currently, there is no set timeline for the construction of the Foothills Fieldhouse. Council first began talking about the project in 2019, but Mian estimates the city is still several years away from breaking ground.
Council approved a concept plan for the Foothills and McMahon area in September 2021, reimagining the area with several new amenities, including the long-awaited fieldhouse, outdoor fields, renovations to the aging McMahon Stadium, and an entertainment district with hotels and mixed- residential buildings use.
mrodriguez@postmedia.com
Twitter: @michaelrdrguez