In a statement of claim filed in a Calgary court, Robert Hoefman says he was assaulted by guards at the detention centre.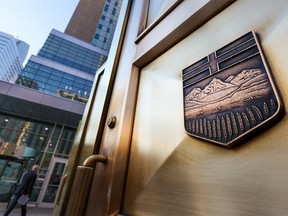 Article content
He tried to extort $1 million from a Medicine Hat professional by threatening to kill dozens of people, killing an innocent victim to prove how serious he was.
Article content
And now convicted murderer Robert Hoefman is looking for an even bigger payday, after launching a $1.25 million lawsuit alleging he was beaten by guards at the Calgary Remand Centre.
Article content
In a statement of claim filed at the Calgary Court of King's Bench, drafted by Hoefman himself, he says he was assaulted by guards at the detention center on April 3, 2021.
"I was physically assaulted by CRC guards while having a panic/anxiety attack," his court document states.
"The worst was when I was choked out, like George Forbes," he said, in an apparent reference to slain American man George Floyd, who was killed while being arrested by a Minneapolis police officer.
"I felt like I was a millisecond (sic) away from dying and never seeing my family again. It's the worst feeling in the world.
Article content
"I was able to say 'I can't breathe' several times and one of the guards from down the hall said 'it's a bit late to say that' when the guard finally got off me," he said.
"This all happened while I was already struggling to breathe due to my panic/anxiety attack and it just added to it that much more."
Hoefman, who is currently housed at the Edmonton Institution while his conviction is appealed, wrote that he is dealing with nightmares and feelings of untrustworthiness towards guards.
"I'm afraid what will happen with my next panic/anxiety attack, maybe I won't survive next time."
Hoefman, 60, said guards also threatened to "break bones" and the incident exacerbated his mental health issues.
Article content
The claim says the incident violated both his Bill of Rights and Charter Rights.
"For all the trauma and physical as well as mental abuse, the injuries caused by this, even that will haunt me for many years to come, I cannot settle for anything less than $1,250,000."
On March 24, 2021, Hoefman was convicted of first-degree murder and racketeering by a Medicine Hat jury that ruled he selected and randomly killed James Satre in a deadly plot to kill an innocent professional, who cannot be identified. not, to get to pay a ransom of $1 million.
Blackmail notes sent to the victim said dozens of people in the southern Alberta city would be killed if the money was not paid.
Hoefman was sentenced to life in prison without parole for a minimum of 25 years.
The victim received the first blackmail letter on October 10, 2017, threatening to kill 44 people. Satre's body was found by a neighbor on the morning of 11 October.
KMartin@postmedia.com
On Twitter: @KMartinCourts