With construction completed, the hospital was handed over to AHS to be equipped with medical equipment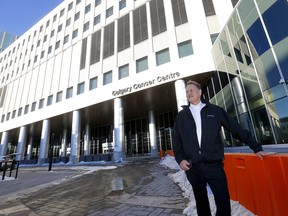 Article content
The massive Calgary Cancer Center has entered its final phase before accepting patients and ushering in what advocates say will be a transformational battle against the disease in Alberta.
Article content
With construction complete, Alberta Infrastructure on Friday officially handed over the imposing glass and steel structure on the northeast corner of the Foothills Medical Center to Alberta Health Services, which will now fill its space with state-of-the-art life-saving equipment and the staff to operate it.
Article content
It is expected to open in early 2024.
"We've got a lot of work to do – we've got the keys now, but the work really starts from an operational point of view to make sure it's a safe, warm and welcoming and the best cancer centre. the work really begins, it will take many months to do it," said dr. Don Morris, clinical division chief at AHS, said.
"The sheer size of the building (is a challenge). It's more than just the furniture, it's all the fancy equipment … some of our machines take six months to get up and running."
Article content
A challenge is also ensuring the center is adequately staffed at a time when hospitals across the country are dealing with shortages of health care workers, Morris said.
"We understand there is a shortage of staff in Alberta and we have already taken a number of steps to increase (medical) seats in post-secondary education," Alberta Health Minister Jason Copping said.
"It's going to take a while."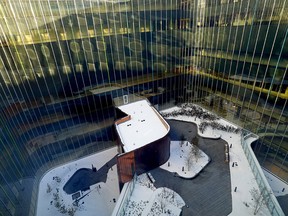 The nearby Tom Baker Cancer Center, which the new facility will replace, is staffed by 800 people.
The new cancer center, AHS officials say, will require significantly more staff, but it's still not clear what the number will be.
"I'm relatively optimistic that we will have support," Morris said.
Not so sure is NDP health critic David Shepherd, who said the UCP government hasn't rolled out the welcome mat for health care workers.
Article content
"I am concerned about staffing plans for the centre, particularly as the UCP's chaos in health care has driven health care workers out of the province," Shepherd said in a statement.
Construction of the $1.4 billion facility began in 2017 under the previous NDP government and was 90 percent complete a year ago.
At 186,000 square meters, it is expected to be the largest hospital of its kind in Canada and the second largest in North America.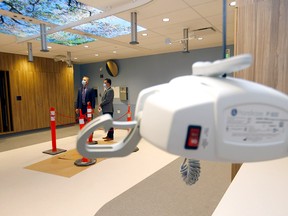 "We're talking about something truly transformative for cancer patients and their families," said John Osler, co-chairman of the group OWN.CANCER that advocated for the new facility.
"Patients will receive customized, world-class treatment plans that will address their physical, mental, emotional and social needs under one roof."
Article content
Patient demand outgrew the Tom Baker Cancer Center within three to four years of its opening, while many patient services were spread across the city, Morris said.
Not only will the new center consolidate these activities, it will be a hub of medical information like few others in North America, he said.
"It will be one of the few centers in North America to capture data, we will be an internationally recognized cancer center," Morris said.
Work at the site, which employed up to 1,600 employees at one time, continued during the height of the pandemic and despite a May 2021 COVID-19 outbreak.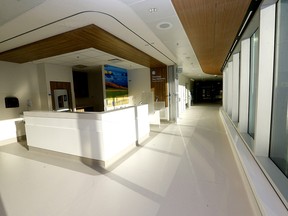 There were also concerns supply chain issues could delay the completion of the project, which was expected to open at some point in 2023.
Article content
But when it opens, it will boast 160 inpatient beds, 15 radiation vaults, research labs and outpatient clinics.
Friday's handover is an emotional milestone and strengthening among those fighting cancer, a patient advocate said.
"The Patient and Family Advisory Board wanted the building to feel like a giant hug. We wanted light shining through the building to help drive hope," said patient and counselor Nashrin Mitha.
"We wanted a building that would house courage, research, modern facilities, equipment and above all a building that felt like a home to all the people who came through its doors. It is truly a labor of love."
It is time to collectively promote cancer research, not inaccurately politicize the disease

Clinical trials for 'experimental' blood cancer treatment expanding to Calgary

University of Calgary Cancer Institute receives $5 million donation for psychosocial oncology research
At the same time, OWN.CANCER launched a campaign to raise $250 million to fund research and quality of life programs at the new center.
More than 200,000 Albertans, or about five per cent of the province's population, are currently living with cancer, and half of Canadians will receive a cancer diagnosis during their lifetime, according to the Canadian Cancer Society.
One in two Albertans will experience cancer at some point in their lives.
BKaufmann@postmedia.com
Twitter: @BillKaufmannjrn