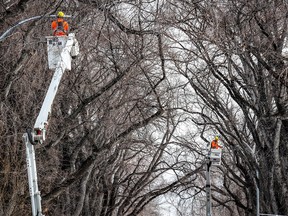 Article content
A trend of an increasing number of burned-out street lights in Calgary should be reversed by a new maintenance contract, city officials say.
Article content
The cancellation of city-owned Enmax's service contract — which gave notice of its exit last March — contributed to a repair backlog, said Michael Gray, the city's streetlight design lead.
Article content
"These delays were not unexpected as (Enmax) has been the provider of this service since the first City of Calgary street light was installed over 130 years ago," he said in an email.
"The city also hired an additional contractor during the transition period to help address backlogs caused by delays in temporary capacity."
The impact of the pandemic on crews and equipment supply interruptions for fixtures and steel poles affected timely street light repairs that must be partially offset by the hiring of Iconic Power Systems, which took over from Enmax starting Thursday, a city spokesman said.
Article content
"As with many things, the pandemic has had an effect on our ability to carry out repairs to our street lights, resulting in a slight increase in response times to street light outages in 2022," explains Ravi Seera, the city's manager of mobility operations .
"Thankfully, our supply issues have been resolved, and we believe that the change in service provider will reduce the response time by mid-2023."
Of Calgary's 104,000 street lights, about 1,000 of them are out of order, the city said, and Iconic has been working with Enmax over the past month to transition into the maintenance role.
That compares with about 750 reports of burned-out street lamps in previous years, the city's Gray said.
The cost of Iconic's contract is similar to the previous one with Enmax which is about $5 million per year, will be reviewed annually.
Article content
Street lights account for about 12 percent of the City of Calgary's electricity use, which has become significantly more efficient with the switch from the old high-pressure sodium lamps to LEDs that began in 2014, city officials say.
About $5 million is saved annually by the conversion by reducing energy consumption by up to 50 percent and maintenance costs by 25 percent, they added.
The safety impact of missing lights varies depending on where the faults are, Gray said.
"A burned out light in an area with a high recommended lighting level is a higher priority to fix than a light in an area with a lower recommended lighting level," he said.
Calgarians can report burned-out streetlights by going to calgary.ca/streetlights
BKaufmann@postmedia.com
Twitter: @BillKaufmannjrn