Reviews and recommendations are unbiased and products are independently selected. Postmedia may earn an affiliate commission from purchases made through links on this page.
Article content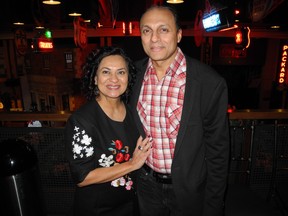 An event guaranteed to get you in the seasonal spirit is the annual Christmas in Alberta celebration held in Petrol Alley Museum at Heritage Park. That the event raises funds for not only Heritage Park, but also Rosebud Theater and School of the Arts adds to the evening's coffers.
Article content
The brainchild of renowned philanthropists Lois and Dick Haskayne, the event has warmed the hearts of its guests for 14 years. Lois was born in Rosebud, and her fondness for the town continues to this day. A traditional turkey dinner, great entertainment provided by the Rosebud Theater Ensemble, amazing auction items and a rousing, hand-holding Johnny Appleseed grace ensured that all who attended had an unforgettable evening on December 5th.
Among the many guests attending the celebration were: Lindsey Galloway, president and CEO of Heritage Park; Paul Muir, director of Rosebud Theater and School of the Arts; Calgary Co-op CEO Ken Keelor ​​and his wife Antara Keelor; Dale and Elizabeth Anda; Rozsa Foundation's Simon Mallett; Coldwell Banker's Olivia Popowich; Lesley Hutcheson, Vice Chair of the Board of Calgary Health Foundation; Brad Wright; Trico Homes' Wayne and Eleanor Chiu; Bob and Cynthia Swan; Dr Janice Heard and her husband Bruce McFarlane and their daughter Erin Rathwell; Ann McCaig with her daughters Roxanne and Jane, son-in-law Rich Waller and her granddaughter Emma Waller; Dean Braun and his wife Ellen Braun; Pam Heard; Mr. Calgary and recent Order of Canada inductee George Brookman with his wife Marjie Brookman and their daughter Karen Brookman, who Western Canadian Digital Imaging president and CEO; RBC's Jon Cornish, who is also the U of C chancellor, and his wife Kiran Cornish, also at RBC; avid Heritage Park supporter Betty Giles; Lisa Falkowsky, Heritage Park's Director of Fund Development, with colleague Jim Heaton; Linda Skauge and her daughter Rachelle Bessette and granddaughter Hailey who took to the stage to perform a rousing rendition of Jingle Bell Rock; and even Mr. and Mrs. Claus took time out of their busy schedules to make an appearance.
Special thanks to this year's sponsors: Dick and Lois Haskayne; Olympia Trust Company; Alex and Wendy Campbell; BrokerLink Insurance; Larry and Tannis Holland; and Richmond Hill Wines.
I will hang up my camera and put the notebook away until the new year. Here's wishing you and yours a joyous Christmas filled with love, health and happiness. See you in '23.