Canada has been struggling with a nationwide shortage of children's Tylenol and other acetaminophen-containing drugs since the spring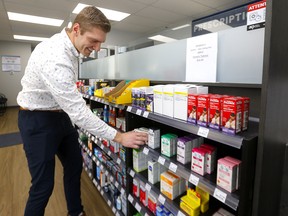 Article content
Supplies are far from plentiful, but a recent influx of foreign-made children's pain and fever medication has stabilized a months-long shortage of the drugs on Calgary pharmacy shelves.
Article content
Several city pharmacies that spoke to Postmedia on Thursday said they had received shipments of children's Tylenol following Health Canada's announcement last month that it had acquired one million bottles of foreign-made stock.
Article content
Canada has faced a nationwide shortage of children's Tylenol and other acetaminophen-containing drugs since the spring, with the situation worsening over the summer and reaching a fever pitch in recent weeks as demand for the drugs rises amid of the circulation of influenza, respiratory syncytial virus (RSV) and COVID-19.
Pharmamedical Pharmacy in Parkhill has secured limited, intermittent supply in recent months. But a Tylenol shipment for small children along with other generic brand supplies means the store's shelves are full again.
Article content
"Most of the time, when we order it, even if it says we can, it just doesn't come in. But this past week we were able to get a shipment of the actual brand name Tylenol and some non-brand name Tylenol as well," said David Loewen, the pharmacy's account manager.
"We're just trying to help people. I would say every day we get one or two, maybe even three people who come into the store or call looking for kids' Tylenol or Advil."
Kaylyn Bassett, a pharmacist at The Pharm Drugstore in Marda Loop, said her store also received supplies, which are kept behind the counter to ensure they are well rationed.
Tylenol shortage a problem, but not to blame for hospital crisis: pediatrician

Alberta affected by nationwide shortage of children's cold medicine
"Pharmacies have started receiving shipments. We have been advised that all pharmacies will receive a shipment," Bassett said. "Our shelves were empty of Advil and Tylenol as well as the cough and cold for children. It was hard to get."
Article content
Both Pharmedic and The Pharm are also compounding pharmacies, meaning they were able to make some suitable medications on site even when over-the-counter supplies were depleted.
Alberta Health Services, which did not immediately respond to a request for comment Thursday, previously said the shortage did not affect patient care.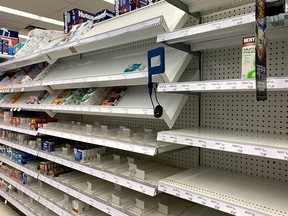 Health Canada said Thursday that the supply of many over-the-counter pediatric acetaminophen and ibuprofen products remains limited in parts of the country.
It said manufacturers were producing at record levels to meet demand, with some companies producing twice as much as at the same time last year. Distribution of foreign stock acquired last month is underway.
"Hospitals have begun receiving their shipments, and product destined for community pharmacies and retailers is now beginning to appear on shelves," the federal agency said. "Additional foreign-label product has been authorized and is on its way to Canada and is expected to arrive in the coming days."
Article content
Flu cases continue to rise across Alberta
Alberta is in the midst of its most severe flu season since 2009 as the province continues to report a high rate of confirmed infections.
Provincial data released Thursday showed 1,515 new laboratory-confirmed flu cases during the week ending Nov. 26. This is down from 1,566 cases the week before, the first decline since the season began in October.
There have now been 5,163 flu cases this season, a number that includes 818 hospitalizations, 80 of whom required treatment in intensive care units.
Sixteen Albertans have died from the flu in the 2022-2023 season, including four deaths newly reported Thursday. Flu deaths to date include two children under the age of 10, and 12 people aged 60 or older.
Article content
The aggressive start to this season follows two years of limited spread of flu viruses, a trend thought to be consistent with public health measures taken to combat COVID-19. The current dominant flu strain – influenza A H3N2 – is likely to peak before the new year, but a possible second peak of influenza A H1N1 virus could come later in the season, Dr. James Dickinson, head of the community flu surveillance program in Alberta, told Postmedia last week.
More than a million doses of flu vaccine have now been administered in Alberta this season. That means 22.5 percent of the population received a flu shot, including 60.1 percent of those age 65 and older.
jherring@postmedia.com
Twitter: @jasonfherring