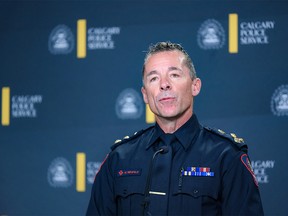 Article content
Calgary's top cop says his department will always follow the law if they are ever caught in the crosshairs of any provincial-federal political feud.
Article content
Calgary Police Chief Mark Neufeld said regardless of whether a law is created by the province or the federal government, CPS will follow and enforce it.
Article content
"If the law is that (police) will do a specific thing, we will do that thing. If there are challenges to the law, any law that is proposed, or if there is a delay in implementation, we will wait and see," Neufeld said during a year-end interview with Postmedia.
The chief spoke about Alberta sovereignty within a unified Canada Act passed by the province during the latest session of the legislature. The bill gives the province the authority to fight back against federal initiatives deemed unconstitutional or harmful to Alberta. By law, the province can direct provincial entities, including local police forces, to disregard those federal initiatives.
Article content
Neufeld said he could see political maneuvering taking place that pits his department between two opposing views, such as on gun ownership laws, but that he doesn't expect there to be a lot of disruption. He said from a public safety lens, Alberta police advocated for consistency across the board, regardless of where directives come from.
"We looked at this out of my different hat, as president of the Alberta Association of Chiefs of Police, we want to have a unified position on issues like this, whether it's gun control or whatever it might be, because it's just confusing for Albertans when we have a situation where, you know, you have certain laws in Calgary that don't apply in Airdrie, or you have such a patchwork," Neufeld said.
Article content
He said if the provincial government did want to interfere with policing, it would be easier to do so through another bill tabled in the legislature, Bill 6.
The province introduced the bill aimed at reforming the Police Act, including allowing the province to parachute members onto local police commissions. That aspect of the bill has come under fire from opposition and critics who say it could be used to politicize policing. However, Neufeld said there has already been a politicization of law enforcement in the past year by various groups.
CPS recently saw a fight over the Thin Blue Line patch after the local police commission banned its use by frontline officers. One commission member said the patch was a known hate symbol before the Calgary Police Association said its members would continue to wear the patch.
Article content
"You saw different interest groups sort of leveraging public safety and policing issues with different people on different sides of the political spectrum. It's all played out because everybody has a Twitter account, or a social media account," Neufeld said.
Alberta government to take over prosecutions in fight over federal gun ban

Alberta to invest millions to speed up gun sales and transfer applications

Alberta's chief firearms officer calls on feds to reverse course on gun ban
Neufeld said if Bill 6 is used in bad faith, politicians could see it as an opportunity to put their influence on law enforcement, but he noted the province does fund policing across Alberta. He also noted that other provinces have similar legislation and to his knowledge no such authority has been used.
Article content
"The devil is always in the details," Neufeld said. "I'm hopeful that there's an understanding among elected officials, regardless of which side you're on, to actually try to mitigate some of that politicization of policing, because it's not helping."
The chief said other parts of Bill 6 are items his department supports, including independent oversight of the police and the modernization of policy around discipline for both officers and civilians. He said he believed the review of the police law would help speed up complaint processes related to law enforcement.
"We heard loud and clear from people that they felt uncomfortable with the police investigating the police," Neufeld said. "We do support that independence piece of it. The principles on which this particular bill is based, I think are positive, I think it will help to modernize things."
dshort@postmedia.com