The Calgary Chamber of Commerce has released a report focused on developing infrastructure to meet the talent demands in the city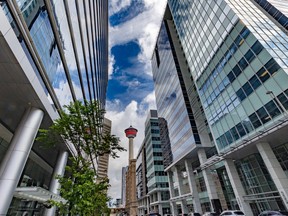 Article content
The Calgary Chamber of Commerce is calling for more investment in the city center to better attract and retain skilled workers.
Article content
The Chamber has released its third report in a four-part series to address the workforce shortage in Calgary called Unlocking our Talent Potential. This issue focused on developing infrastructure to meet the talent requirements in the city.
Article content
Deborah Yedlin, president and CEO of the chamber, said it comes down to people and physical infrastructure.
Article content
At its heart is the downtown, either as a place for more post-secondary to be located for training and access, or for a restored vitality and to attract more workers to the city.
That would cost more provincial dollars, she said.
"That $5 million that the previous government gave to both downtown Edmonton and Calgary, that was just a slap in the face," Yedlin said. "You have a city where corporate decisions are made that not only have an impact on the province, but on a national economic point of view. But you don't necessarily have a city center that reflects that."
Article content
She said it is critical that more post-secondary is moved downtown. The issue was highlighted in the province's Calgary Office Revitalization Expansion report this summer. However, with a new prime minister, Yedlin said these policy discussions are just starting again.
While there are some post-secondary assets downtown, including an office for the Energy Transition Center with the University of Calgary that opened last week, Yedlin said entire faculties should be moved to the core. She singled out the faculty of law, the faculty of architecture, planning and landscape and the faculty of social work. She also proposed bringing the Alberta University for the Arts downtown to maximize investments already made in the arts and entertainment district.
Article content
"It makes all the sense in the world, but we need provincial funding — supporting that would be a huge undertaking," she said. "It would signal such a shift to downtown Calgary. . . . There's actually an argument here that makes sense."
Yedlin said the post-secondary investment should continue with additional funds for the Alberta Jobs Now program for training and retraining, and to further assess what skills are needed for the current work climate and the role micro-credentials can play.
Article content
One issue that has come up in recent months is the struggle many new grads face to find work in Calgary's tech sector despite low unemployment rates and thousands of job postings. Many places are looking for experience that new grads don't have.
Article content
Yedlin said businesses should be used as talent developers.
She said the province could create a tax incentive or credit for local companies to support apprenticeship and work experience programs, and something similar for students to encourage them to stay in Calgary and work locally.
The physical infrastructure includes continued investment in public transportation, such as the Green Line or the development of a CTrain leg to Calgary International Airport, and the push for a rail link to Banff.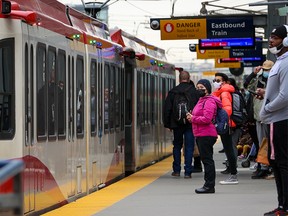 The report calls for affordable housing connected to transit, and increasing the density of some neighborhoods.
"It's a bit of a tough conversation in some parts of the city," Yedlin said.
The report said 18 percent of the city's population is between the ages of 15 and 29, making it an important workforce demographic. It's also the slowest growing demographic in the city, which makes it even more important.
Article content
The report says improving the city's vibrancy and diversity in arts, entertainment and cultural experiences for those in their early 20s is key.
Chamber report looks at addressing labor shortages through immigration

Chamber of Commerce calls on city to adjust tax ratio for businesses
To do that, Yedlin said there needs to be a priority for developing entertainment options, such as the proposed event center, and bringing more events to the city.
She said the city should work with local business improvement areas and community organizations to make the events Calgary does find easier, including building an easy-to-use open database or calendar of all events.
Yedlin also said the city should look at making public transportation free for major sporting events, festivals and the Calgary Stampede to improve accessibility.
The report also recommended the establishment of an intergovernmental working group to coordinate and support an Olympic bid in Calgary.
jaldrich@postmedia.com
Twitter: @JoshAldrich03