Cars will be back on the road as soon as Tuesday, a disappointing move for cyclists who say the bridge has become a well-used part of the city's active transport network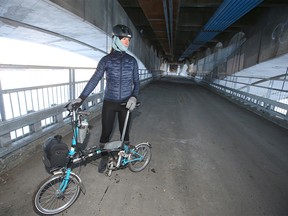 Article content
The City of Calgary is reopening the lower deck of the Center Street Bridge to vehicles this week, much to the chagrin of cyclists and other active transit users who have made the downtown link a regular part of their commute over the past few years.
Article content
In addition to intermittent closures for construction, the bridge has primarily served as a pedestrian connection from Sunnyside to downtown over the past two years since the city closed the road in 2020 for construction and to allow better spacing during the COVID-19 pandemic . The 106-year-old bridge has since become a well-used corridor for cyclists and pedestrians and a popular spot for photo shoots.
Article content
"It's just a great, kind of casual public gathering space," said local active transportation advocate Brett Bergie. "I think there's an opportunity to preserve it because people used it in a way that motorists can't – stop and take pictures, enjoy the space, not be in anyone's way."
Article content
Ward 7 gr. Terry Wong says cars will be back on the road as soon as Tuesday when the path will be close to pedestrians. With construction on the north and south ends of the bridge well into the summer, he said there is no need to keep the road closed and noted that it provides an important connection to Chinatown and downtown businesses.
"At the beginning of COVID when we closed that bridge, a lot of the Chinatown businesses were starving," said Wong, who served as the executive director of the Chinatown BIA at the time.
In addition to people going to Chinatown businesses in person, Wong said many food delivery drivers rely on the route and restaurants have seen a noticeable drop in orders due to longer wait times as drivers detour to the Edmonton route or 10th Street intersections.
Article content
"They lost a lot of business because people just said we can't wait for the driver to take so long," he said.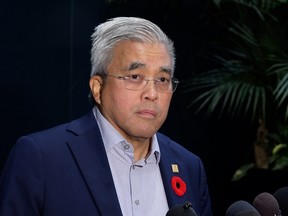 While there are pedestrian walkways on the upper deck of the bridge—accessible at its southern end from the River Walk—they connect to the city's trail network further north on Center Street as the Memorial Drive and Bow River Pathway-connected lower deck. Cyclists coming from communities north of the river will now have to go through Prince's Island Park or the Reconciliation Bridge to cross to the south.
"I've found (the lower deck) to be the most direct link from Sunnyside to downtown over the last few years," said cyclist Matthew Hicks. "It's such a nice connection because it's equal and doesn't really have any conflict issues. It's covered in snow and you get great views of the city from it."
Article content
Citizens call for climate action, better transportation at Calgary budget public hearings

Pandemic may have contributed to increase in cycling injuries, bike shops say

City Hall adopts updated climate change strategy, aiming for net zero by 2050

Bike Calgary pushes city to keep pedestrian, bike paths open through winter
Bergie and Hicks both questioned the city's commitment to its 2021 declaration of a climate emergency, saying that allowing cars to resume the road would go against that commitment.
"There is no problem in Calgary for which the solution is more cars," Bergie said. "When you think about modes like walking and cycling, direct routes become critically important. And here the city takes one away.
Article content
"We need to start thinking about how we can make it easier for people to change modes and taking away a piece of infrastructure like this doesn't get us there."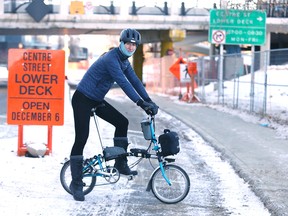 Shovel. Wong said keeping the bridge closed would likely result in cars taking longer trips to get downtown. He said during recent budget discussions, the council committed a total of $40 million to continued improvements to the active transportation network. Wong also hopes that the Green Line project — while still years away — will provide an intersection that negates the need for pedestrian access to the lower deck of Center Street Bridge.
"When we talk about climate emergency, we have to balance social needs, economic needs and environmental needs. There is not always one size fits all and I think most people appreciate that."