'The decision to move Louise Dean School to Jack James gets an F-minus. These girls will be subjected to torture, harassment,' said Philip Fisher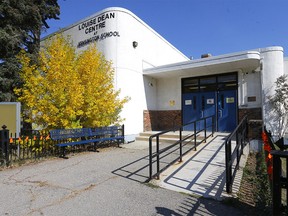 Article content
Louise Dean School for pregnant teenagers and young mothers will close its standalone site in Kensington and move to the controversial Jack James High School site – a decision that comes exactly two weeks after a stabbing there.
Article content
Trustees with the Calgary Board of Education voted overwhelmingly in favor of the move, even after written submissions, emails and two public hearings saw nearly 400 Calgarians plead to keep the program open at its existing site, or at least to consider other alternatives than Jack James, located in the heart of Forest Lawn.
Article content
"I absolutely do not agree with a proposal to share schools," Rod Tomlinson said at Tuesday's public council meeting.
Tomlinson – a former social work professor at the University of Calgary – explained that putting teenage mothers in an environment with regular high school students will only hurt them at a time when they need to heal with other young girls in the same situation face to face
"Trauma victims need to heal in a relational context with other trauma victims," ​​Tomlinson said, saying he has provided trustees with a wealth of research that proves this.
Article content
Philip Fisher added that "the decision to move Louise Dean School to Jack James gets an F-minus. These girls will be subjected to torture, harassment… and will be called all sorts of derogatory names."
Fisher added that even if CBE were to build a separate area for Louise Dean students at Jack James, the girls would still face harassment and harassment in other areas, such as waiting for the bus at the front of the school.
Two out of the three presenters were cut off on Tuesday by board chairwoman Laura Hack, who refused to give them any time beyond the allotted three minutes. In fact, Fisher's microphone was turned off by an administrator when he tried to continue speaking.
Later, trustees filed a motion allowing themselves to speak for more than three minutes while debating the administration's proposal.
Article content
Dozens of the submissions to CBE trustees included serious concerns about the safety of Louise Dean students and their babies, as the Forest Lawn community is known for its high rate of violence and drug crime, which sometimes spilled over to Jack James.
On November 15, police were called to the school at 1 p.m. for a stabbing incident, when a 15-year-old student was injured and a 13-year-old boy was arrested and taken into custody.
And at a public hearing on November 1, longtime area resident Terry Chiasson told the CBE that she has seen an increase in drug crime in the area that worries her.
Police arrest boy (13) after he was stabbed at Jack James High School

Louise Dean families plead with CBE to keep independent school open

Former teenage mother credits Louise Dean Center for success

Program for pregnant teenagers to be considered for closure, relocation to regular high school
But only Trustee Dana Downey voted against the administration's proposal to move Louise Dean to Jack James.
Article content
"We've heard a high level of concern about attending a school with other peers, and I understand that, even the challenge these students face just getting themselves inside the doors," Downey said.
But not one trustee or administrator raised the stabbing incident two weeks ago, with many arguing that the community and the school are safe for young teenagers and their babies.
"I grew up in this area, and it is safe, welcoming and full of proud hard-working Calgarians," trustee Marilyn Dennis said through tears.
"By voting against this proposal, I would be complicit in the slow death of the program and I cannot live with that."
Trustee Susan Vukadinovic added that she has met many of the students at Jack James and they are "some of the most polite and friendly students in all of Alberta."
Article content
Administrators explained the hallmark of the Louise Dean program is the "wraparound" support for young mothers through the Kindred agency, formerly Catholic Family Services, to ensure students can juggle academics with the complex challenges of motherhood.
But funding for Kindred is at risk of being pulled as enrollment at Louise Dean in Kensington has fallen drastically. Administrators argued that moving to Jack James puts Kindred in a school with higher enrollment, ensuring it continues to be funded.
CBE also promised that Louise Dean students would be protected in a locked space with a separate entrance, separate classrooms and childcare spaces — although administrators said students would have the option to attend classes in the regular high school setting at Jack James if they chose to do so.
Article content
But several members of the public and former students told trustees throughout the public engagement that entering a regular high school environment could pose great risks for vulnerable young moms, and they could face bullying at any time.
"We have an opportunity to support these young women, giving them a unique opportunity at their most vulnerable time, instead of putting them at risk at a school that we know has recently faced increased threats ," Stephanie Fenley said Tuesday.
Louise Dean School will close at Kensington in June 2024 and reopen at Jack James in September 2024.
eferguson@postmedia.com