Meanwhile, the median price of condos in the community rose just 5.9 percent to $663,400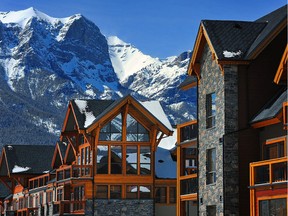 Article content
Buying a piece of mountain paradise in Canmore just got more expensive in 2022.
Article content
The cost of owning a home in the community in the shadow of the Rockies has risen 23.6 percent in the past 10 months to $1,588,900 for a single-family home. Last year at this time, the median price on such a property was $1,285,500.
Article content
However, prices are forecast to drop four percent next year, according to Royal LePage's 2022 Winter Recreational Property Report released Tuesday.
Article content
"It's been a dramatic increase," said Brad Hawker, an associate broker at Royal LePage Solutions in Canmore. "There is a confluence of sustained demand throughout the year from all market segments."
This includes people who live in the community full time, those who move up within Canmore, leisure buyers, retirement buyers and buyers who work from home.
Article content
Meanwhile, the median price of condos in the community rose just 5.9 percent to $663,400, from $626,600.
Still, the price of a condo in Canmore is only surpassed in Western Canada by one in Whistler, BC, at $673,300, and Revelstoke, BC, where median prices shot up 36.6 percent to $778,500. Invermere, BC had the lowest condo prices in the Rockies at $275,000.
Article content
Whistler has the highest median price for a single-detached home across Canada's ski resort towns at $3,648,200 – Canmore was third, with Big White, about 60 kilometers east of Kelowna, BC, second at $1,600,000. Sun Peaks, 60 kilometers northeast of Kamloops, went for $1,540,000.
There are Rocky Mountain bargains to be found, with homes priced at a median of $627,500 in Invermere and $850,000 in Revelstoke.
Article content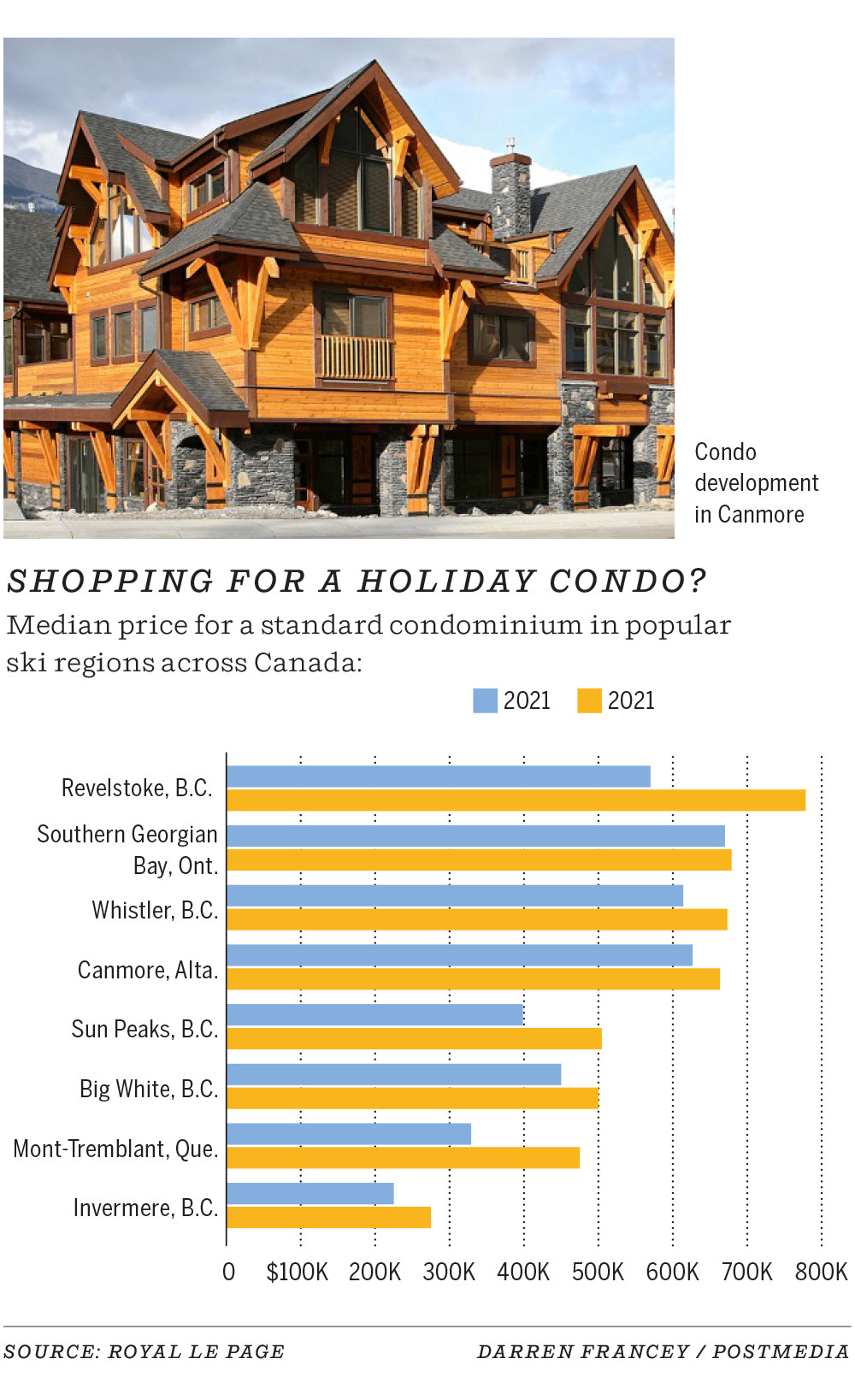 Hawker said there has been a trend of people selling in Canmore, buying elsewhere and then returning to Canmore largely because of the convenience and proximity to Calgary.
"They found they just didn't get there as often because it was so much farther," said the 31-year veteran broker. "They didn't realize that extra hour or two or four drives would affect the number of times they would actually consider going."
He also pointed to the arts and culture options available in Canmore as a major draw, while also noting its proximity to Banff and its access to a major international airport.
Town of Canmore granted right of appeal against massive Three Sisters developments

Royal LePage predicts that the price of recreational properties in Alberta will increase by 9% this year

Home prices rise, time on market shrinks as Canmore's real estate market heats up
The work-from-home market has grown steadily in Canmore over the past decade and has increased during the pandemic as offices have been closed. But Hawker doesn't expect the reopening of offices to cause a sellout in Canmore.
Article content
While prices have soared, sales are actually down 41 per cent in Canmore through the first 10 months of the year, due to a lack of inventory. There have been 132 listings so far this year, 32 percent below 2017-19 levels.
The real estate industry depends on the rising interest rates caused by inflation.
The Bank of Canada has raised interest rates by 3.25 per cent since March. While that has slowed down the Alberta market significantly and led to price drops in other major centers like Toronto and Vancouver, Hawker said it's not affecting this market as much.
While those who can afford a seven-figure vacation property have more flexibility than the average homebuyer, the higher rates hit hard for those who make their home in Canmore year-round and moved there during the pandemic as a work-life adjustment . As a result, Royal LePage predicts a four percent drop in the median price next year.
"A lot of the single-family homes that are in Canmore are owned by full-time residents, who are more susceptible to interest rates," he said. "People who want to sell their single house are going to be a few fewer buyers. And therefore they will have to be a little more flexible in terms of their price."
jaldrich@postmedia.com
Twitter: @JoshAldrich03