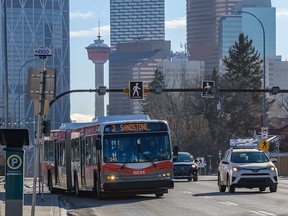 Article content
When it comes to getting bus and train service back to pre-pandemic levels, Calgary Transit says it has a staffing problem, not a money problem.
Article content
Sharon Fleming, director of fleet services at Calgary Transit, explained the numbers to Council during budget discussions.
Article content
"So we have a situation where we haven't really recruited much in the last four years. We have high attrition due to retirements and we are looking at ramping up our training capacity so we can push through the recruits we need for next year just to return to 100 per cent duty from 2019."
Fleming said a blank check won't speed things up, and that they have the budget to reach their hiring goal by the end of next year.
She said as of November, Calgary Transit had 1,881 operators, and they need 800 more to return to 2019 levels.
"We've recruited about 253 this year and we've actually called back most of the operators who were laid off during the pandemic," she said. "So it's a question of attrition due to retirement. And we are working to expand our training team so we can recruit as quickly as possible, hopefully up to 800 next year.
Article content
Fleming said they are not having trouble finding recruits for the operator positions. They try those with experience, interview and training. She said it can take up to two-and-a-half months from the interview process until a candidate is behind the wheel.
Once staffing levels return to 2019 levels, Fleming said Calgary Transit plans to use new money in the budget to focus on the city's primary transit network — its CTRain lines and bus rapid transit lines
The city wants to focus on increasing frequency along the primary transit network, and during two days of public hearings, many of the more than 120 speakers expressed concerns about the frequency of Calgary's transit networks.
Citizens call for climate action, better transportation at Calgary budget public hearings

Transport fares are set to rise by 11 per cent in the four-year budget plan

Calgary Transit ridership could improve to three-quarters of normal by 2022: city officials
Shovel. Evan Spencer put a question to Fleming about the cost of getting the service to levels proposed in the Route Ahead strategy of 10 minute frequency for about 15 hours each day.
Article content
"Can you give me an idea of ​​where the gaps are going to be in terms of infrastructure and operation? How much remains to be done to get to that kind of ideal (primary transport network)?"
Fleming said funding the current network of CTrains and BRTs at levels proposed in the Route Ahed strategy would require an operating budget investment of $53 million a year, and about $88 million to $110 million in vehicles.
However, the strategy has plans for a wider primary transport network. Fleming put the cost at an additional $140 million, plus a one-time capital investment of $650 to $750 million.
brthomas@postmedia.com
Twitter: @brodie_thomas