'Since 2019 we have turned away around 300 seniors a year just because we don't have a bed when they need a bed'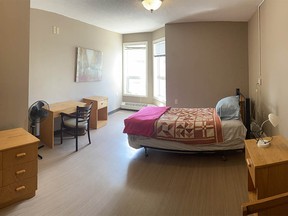 Article content
Larysa Sotina came to Calgary to spend time with her children. Instead, she found herself almost on the street.
Article content
When Sotina arrived in Calgary in late 2021, the Ukrainian senior had every intention of returning home. But when Russia invaded Ukraine in February, she was forced to stay in Calgary – thinking she would be able to do so with her family.
Article content
However, Sotina said that what followed in her personal life after the war broke out was 'not too nice a story. Her relationship with her children became strained and abusive, and Sotina soon found herself in the hospital and without a place to live.
"I thought I could be out on the street somewhere, because I have no income and I have no friends here," Sotina told Postmedia.
With no other support to rely on in Calgary, police connected Sotina with the Kerby Center's elder abuse shelter — the only reason she's had a warm bed and meals for the past eight months.
Article content
Elder abuse shelter regularly at capacity
The small nine-bed shelter, with a tenth reserved for use by the Calgary Police Service's Elder Abuse Response Team, regularly operates at capacity, forcing it to turn away dozens of people a week. The shelter is the only one in Calgary that specifically caters to the needs of seniors fleeing domestic violence.
"People are not aware of abuse of the elderly, that it is a thing and it happens more than people first realize," said shelter manager Mari-Anne Godlonton. That abuse can be physical, emotional or financial, and often comes at the hands of the people closest to the victims, she added.
In recent years, the shelter has seen increased demand for its services — including its parent abuse resource line — especially during the holidays.
Article content
"Since 2019, we've turned away about 300 seniors a year just because we don't have a bed when they need a bed," Kerby Center CEO Larry Mathieson said. "At a time like this we definitely see an increase because there is more stress in general and therefore more likelihood of abuse."
Support needed
The issue is not unique to Calgary. Mathieson pointed to recent data from the Alberta Council of Women's Shelters, which showed 11,546 women and seniors were turned away by shelters province-wide from April 2021 to March 2022. Although an exact breakdown by age is not available, only 69 seniors were admitted to shelters in Calgary and Edmonton in that time frame.
Mathieson said the Kerby Center shelter has room for 14 beds but lacks funding to operate it full time.
Article content
"Donations will allow us to cover those extra beds," he said. "We need volunteer support, we need corporate groups or church groups to come and make a hot meal at the shelter, and we need cash donations."
Overcrowded and underfunded, Alberta women's shelters forced to turn away thousands: report

Alberta hopes to improve protections for seniors with updated elder abuse strategy

MRU report outlines issues facing today's seniors in Canada
Sotina says she is grateful to be one of the lucky few who can stay at the Kerby Centre, noting that she is particularly pleased with the celebratory cheers that staff members – who she says have taken care of her like family – bring to the facility brought
"There are two Christmas trees, everything is bright, everything is beautiful. The best, you know?" she said. "They are very, very sweet—not sweet—hearts of gold."
The Kerby Center's Elder Abuse Resource Line can be reached at 403-705-3250. Suspected cases of elder abuse should be reported to the Calgary Police Elder Abuse Response Team by calling the non-emergency line at 403-266-1234.
More information about the Kerby shelter can be found at kerbycentre.com.
mrodriguez@postmedia.com
Twitter: @michaelrdrguez